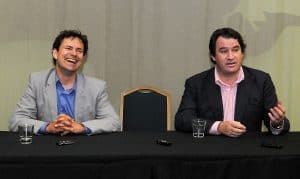 Alastair Fothergill and Mark Linfield are the directors of Disneynature's Chimpanzee.  They are also, to be honest, very British and very handsome.  And brilliant.  I can't forget that.  I say they are handsome  and they were, but they really were just warm, personable and really fun to chat with.  They had a lot to share with us about their experiences shared while filming this incredible movie, and I'm going to go a bit of a different route to share what they told us.  Remember to "hear" it with a British accent, of course!
#1 The most dangerous thing about filming this movie was the driving.  Even with the jokes about London drivers being the worst, both men agreed that the driving was very harrowing.
You know, there's Ebola in that part of the world.  There's — you have to be very careful.  Certainly, some very dangerous snakes.  But, definitely, the most dangerous thing is driving.  African roads can be interesting at times, and we always actually joked that the most dangerous thing about making wildlife films is driving to Heathrow Airport.
#2 The crew members wore the same green every single day while filming so they would not be confused with poachers that might have come along.  In fact, they didn't eat nor use the bathroom anywhere near the chimps while filming.
With the chimps we were very, very careful.  We always wore the same green clothing.  And the reason for that was, if there were any poachers that would be coming in, they would probably not wear that clothing.  So the chimps got used to us in green.  We never ate in front of the chimpanzees.  We never peed in front of the chimpanzees. 

We never looked directly at the chimpanzees.  And in our camp itself, we carried in all of our food, and we had a very good, um, com — um, decomposition system…
#3 No crew member was ever more than 7 meters from the chimps. Chimps are very susceptible to human diseases.  Masks were worn to prevent diseases from spreading to the chimps.
We also had to wear face masks.  And if you ever get to see a copy of the book — it may have even been in the end title — you probably saw the cameramen wearing face masks?  That's to stop us giving them germs, not the other way around.  So, we had this — we couldn't get closer to seven meters.  Obviously there are some huge close-ups in there, but that's, of course, good lenses.  Can bring you right in.  Um.  And, um, one of the problems, actually, of only being able to get seven meters away, is that usually between you and seven meters from a chimpanzee, there's lots of foliage in the way. 
#4 Humans share 95-97% of our DNA with chimps.  Humans can have a blood transfusion with a chimp.  A gorilla cannot.  That's kind of amazing when you stop and think about it for a moment!
Most chimpanzees in the wild are completely frightened of human beings.  So the only chimps that you can work with are what are called habituated chimps, and these are chimps where scientists have spent literally five to ten years getting the chimps used to a human presence. 
#5 Chimpanzees travel 12-15 kilometers a day.  Which means the crew was traveling on foot through rain forest terrain to follow the chimps.  Physically taxing, to say the least!
 You know, the finished film, we're pleased to say, makes it look pretty easy, but honestly, most of the time, you couldn't see the chimps.  It was just green in front of the lens.  It was dark.  You know.  You could barely get an exposure.  And, to make matters worse, these chimpanzees are traveling 12, 15 kilometers in a day. 

Um, really fast.  Through terrain that we can barely move through.  Sort to thick vines and scrub and you're off on your hands and knees with a rucksack on your back and it's catching on you.
#6 All of the chimps in the movie were named by the research scientists located at the base camp of the Tai Forest- all but Scar.  He was originally named Hare, because of a hare lip, but was renamed Scar.  The crew felt this was a better fit for him and they didn't want to emphasize that as a disability…plus, "Scar" is obviously a great name from a Disney point of view…
#7 The directors wanted to know if any of US, the mommy bloggers, thought that the meat-eating scene would be too much for children.  Right at the end of our discussion with them, they wanted to know what our thoughts and reactions were.  (We were all quick to agree we felt it was very well done and not too much for children).
#8 Chimpanzee's production began back in 2006.  There were 700 days of filming, from a three and a half year time period.
#9 The directors and the crew got drawn into the "soap opera" that was the daily life of the chimps.  They knew each by name and had discussions around the table at camp about what each had done that day, what they anticipated they'd do the next day….which is funny because when the crew first arrived, they felt that maybe the research scientists had been in the woods a bit long with the chimps…and reportedly all found themselves doing the exact same thing within a few months!
Everyone was saying, "You should've seen the way he looked at her today.  I'm sure he was thinking this."  "He never did!"  "Well, you know what'll happen tomorrow.  You know where that'll lead.  Then no good'll come of that."  And they were talking about it like you would talk about a sitcom..

These guys have been in the forest way too long, way too long.  You know.  Within a couple of months, we were doing exactly the same.  You can't — you just get drawn into them.  You can't help it.  You know, they are just so engaging.
#10 The camp for researchers in the Tai Forest was already built before this filming began.
The crew for Chimpanzee had to travel from  Abidjan, on the coast.  And it was about a ten-hour drive on a pretty hairy metal road, and then a four-hour drive on a road that, in the rainy season, was a mud road, which was really quite challenging.  And then we had to walk for another two hours in the forest, and one of our fantastic team guys actually built a hut.  They had a research station there.  The scientists had a small research station.  But that was just big enough for the three or four.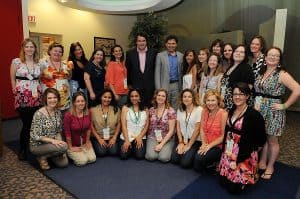 One thing that I think weighed on all of our minds- was when Oscar was clearly getting so week, and so alone, and so close to dying- did the crew want to rush in and help?
And you think, "Oh, God.  I could just rush in and give him a sandwich, just help him out, just get him through the next day," but, actually, you know, we worked together on wildlife films for a long time.  And you're quite often in situations where you know you want to rush in and help the prey.  Or you want to — you can't.  You know.  You have to just sit back.  Observe.  You know.  And bring the true story back home with you.  But, of course, secretly you're rooting for someone to — you know, to find someone to help him out.
Thankfully, Freddy stepped in to help out.  But of course, you have probably already gone to see the movie and you know that.  If you haven't gone yet, remember that when you SEE Chimpanzee during opening week, you can help SAVE Chimpanzees because when you purchase tickets for opening week, April 20-26, 2012, Disneynature will make a donation to the Jane Goodall Institute (JGI) to protect wild chimpanzees.  What are you waiting for?
Don't forget to check out our interview with Jane Goodall, and the McClain sisters!
This interview was part of a press trip I was invited on by Disney and Global Resort Homes.  Travel, accomodations and expenses were provided to me.  All opinions are my own. 
0