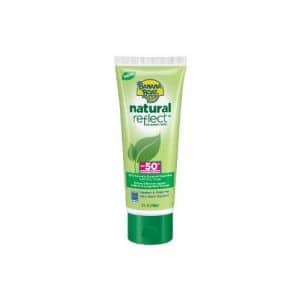 Banana Boat®  made us want to have a party with some friends.  Well, they make us want to party with our friends because they sent us goodies to share.  We generally like to party with our friends with or without goodies from Banana Boat®.  But this time, we had some goodies to share that friends could take home.  Like fun frisbees ("wizz-bees") and tons of the new Banana Boat® Sunscreen Natural Reflect Lotion.  Weather permitting, we are outside daily in our family- and we know the importance of applying sunscreen regularly.  I'm not perfect about it but I try to make it habit- a fun habit, before the kids are even dressed in the morning, and reapplied throughout the day, especially in summer.  We have a swimming pool and our yard is a fairly big one, with very little shade, so I have to be very diligent about protecting my kids' skin from the harmful rays of the sun.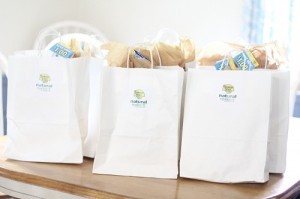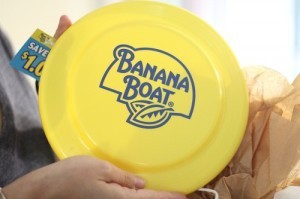 Banana Boat® has a new, free, downloadable  101 Days of Summer Play activity guide on their Facebook page that has tons of great ideas to get you outside- playing, moving, unplugging, and being together! It's summer- let's do it up right!  While you are on the Facebook page, please be sure to take a moment to take the pledge- for every pledge made, they  will donate one bottle of Banana Boat® Sunscreen Natural Reflect Lotion to the Hole in the Wall Gang Camp, a summer camp for children coping with cancer and other serious illnesses.  (This is an amazing camp, started by Paul Newman himself- a wondeeful endeavor to support).  While you are there, you can also take a sun 101 quiz and get a $1.00 printable coupon for the Banana Boat.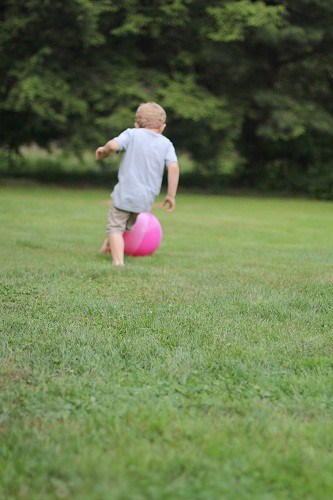 o   Ready?  Set?  Go! Update the traditional relay race with challenges to make the game a little more interesting. Start each player off by jumping rope five times before running off to the next step!

o   Basketball with a flying twist! Hang a basket from a tree limb close to the ground and see who can make the most baskets!

o   Hop around! Hopscotch is always a fun and easy way to get active outdoors. Have the kids use their creativity to come up with new rules or a different way to organize the squares!

o   Do the hula. See who can hula the longest around their neck, hips and knees.

o   Popsicle social. Squeeze ripe oranges for fresh orange juice and freeze in popsicle trays. Once they're ready, enjoy this ice cold treat outside in the warm sun.

o   Freewheeling. Split a group of four or more kids into pairs and create your own wheelbarrow. Have one person get down on all fours while their partner picks them up by their ankles. When everyone is set, race to the finish without falling over!
We like to play fun (and silly) games that are old school, like a potato sack race (old pillowcases are great for this) and the old egg on a spoon (FYI there's a much less um…egg-y idea for this in Family Fun magazine that suggests using ice cubes with food coloring in them.  Still slippery, still fun, but not a risk of raw egg all over the place!) and bean bag tosses.  Or really, just running races and playing tag.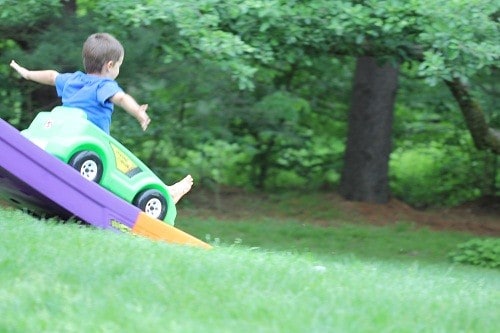 Simple.  Fun.  Summer.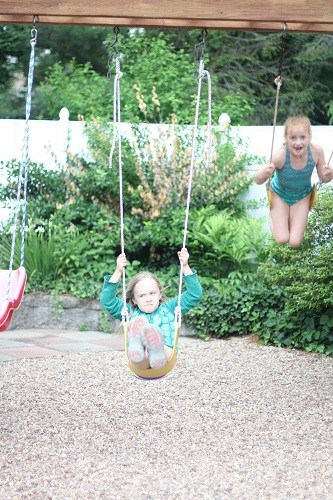 My kids will spend several hours playing "box" which …well, it's just what it sounds like.  They play with a shipping box for hours.  They did it today.  The played it to pieces and now its recycled.  I think if I told them we'd be having  a party and all the friends would bring big boxes to play in they'd be overjoyed.  Bringing the box outside creates a whole new level of play.
What do YOU do to pass the summer days?  Are you jam-packed full of activities?  Do you prefer to just hang out and see what comes of each day?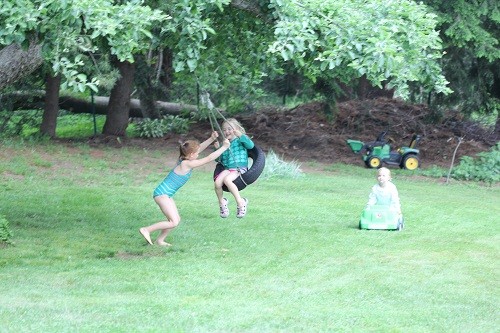 I have to tell you that ALL of the families who came to the party and those who weren't able to come but we shared goody bags with LOVE this sunscreen.  We're all hoping it comes out in a spray, especially my friend Lisa who pretty much lives on the ocean all summer with 4 kids.
NEW! Banana Boat® Natural Reflect Sunscreen Lotion SPF 50+
Introducing an effective, natural sunscreen in our line of proven protection. Banana Boat® Natural Reflect sunscreen lotion uses naturally sourced sunscreen actives that deflect UVA and UVB rays.
| | | |
| --- | --- | --- |
| • | | 100% Naturally Sourced Mineral Sunscreen Actives, Zinc Oxide |
| • | | Oxybenzone and Paraben-Free |
| • | | Gentle on Sensitive and Delicate Skin |
| • | | Proven Effective Against Sunburn; Helps Prevent Long-Term Skin Damage |
| • | | Broad Spectrum UVA and UVB Protection |
| • | | Water Resistant (80 Minutes) |
| • | | Recommended by The Skin Cancer Foundation |
| • | | Dermatologist Tested |
We hope you have at least 101 days of summer FUN ahead!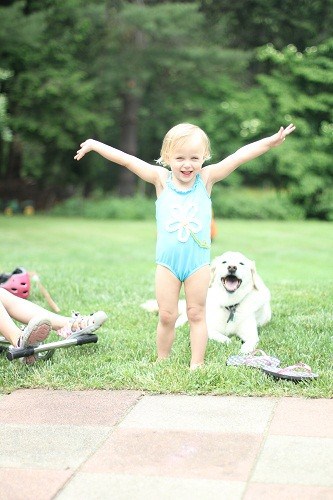 One lucky reader will win a Banana Boat prize pack.  To enter, simply leave a comment in the post below telling me what your favorite summer activity is.  I'd love for you to share, share share this giveaway with family and friends on your social networks so that we can get more folks to take the pledge mentioned to support the Hole in the Wall Gang camp.
The giveaway will end at 11:59 PM EST on June 22, 2012.  US Only.  Winner to be chosen randomly.
I wrote this review while participating in a blog tour by Mom Central Consulting on behalf of BananaBoat® Sun Care and received a party kit to facilitate my review, party kits to give to my guests, and a promotional item to thank me for taking the time to participate.
0