The thing about kids is they never stop growing. Ever. As soon as you get them all stocked up with the clothes they need, they either choose that moment to have a growth spurt or the seasons change. Either way, the conclusion is you end up buying more clothes. And more. Maybe even more again. With three kids to dress, I've found a few parenting hacks to keep them dressed in style and in season without breaking the bank.
5 Ways to Save on Kid Clothes

Shop Off Season:
Once clothes are out of season, you'll notice the prices drop dramatically. Take this opportunity to stock up on clothes your children will need for that season, in a size or two bigger than their current size. If you're having a hard time estimating what size to buy for the next season, try sticking with things like shoes and coats that don't usually get outgrown as quickly. (If the kids aren't in that size, you can always sell or consign those steals!)
Pair Coupons With Sales:
Have coupons? Take an extra moment to match them with the sales advertisements, before you stick them in the recycle bin. I'm not saying you need to go extreme couponing or anything (although I'm all for it if you'd like to), but that extra few minutes of glancing it over can save you some serious cash in the long run. End of season sales paired with coupons make THIS mama very, very happy. ( I really get giddy when I find steals on winter pajamas and outerwear).
Consignment:
Consignment is a great way to score new items, while making money off your current ones. Packing your things up and taking them to a consignment store can be a major hassle, I know. Try going an online consignment store, like Moxie Jean. They add hundreds of new outfits every Monday and Thursday and are a great avenue for purchasing high-quality gently used kids clothes. Their postage-free prepaid mailer bag included with your order will allow you to easily send back clothes that your kids have outgrown, and make some money from those!
I love that this is a company run by two mothers who totally understand the struggle, with 5 kids between them. They believe in the reduce, reuse, and recycle philosophy and I'm right there with them. "Waste not, want not," my grandma used to say. Moxie Jean is an upscale resale site for kids clothes that features a ton of great brands like Gymboree, Gap, Tea Collection, Hanna Andersson, Mini Boden, Baby Lulu and Ralph Lauren, plus designer brands like Oilily, Mayoral, DKNY, Burberry, and Juicy Couture, all at 75% or more off retail prices. PLUS, and this is one my favorite things about the awesome that is Moxie Jean, unsold items are donated to Kid's Pantry in Chicago.
You can also find the brands and styles kids WANT to wear, at a fraction of store prices. Who doesn't want to maximize their hard earned dollars? And… the best part?
wait for it…
a little more….
you don't have to go INTO a store. You don't have to get in the car or on a bus, nor hop a plane or catch a train. Gosh, you could even shop from the 'loo if you want. I won't judge. I would recommend popping in to Moxie Jean on Monday and Thursdays because that's when you'll find the new selections available for purchase.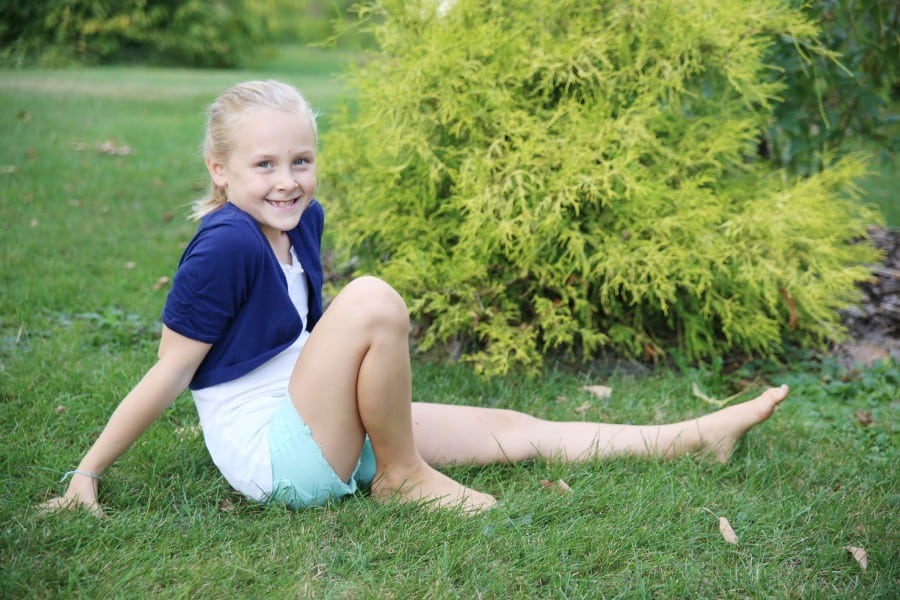 Swap With Friends:
You can find some pretty awesome deals swapping with friends. Especially when your pink loving daughter who's refused to wear denim for five years decides one morning she hates pink and only wants jeans. That's definitely a good time to talk to friends!
If you don't have friends with children that fall into your range, check social media for groups in your area that promote selling/exchanging children's clothes. My area has a mom's group where you can easily post your items for sale or trade with other mom's in the near area. As always, err on caution and use your best judgment went meeting up with strangers.
Repurpose/Accessorize:
Before you completely write off an item of clothing in your child's closet, get a little creative. Stop and determine whether the outfit can be repurposed or spruced up with accessories to change it up a bit. Jeans, for instance, can often be cropped to make some adorable capris. Favorite short sleeve shirts that are getting short can sometimes be layered over a long sleeve shirt in the cooler months to create a completely new look! Got an adorable sundress that still fits? Grab a cute shrug or sweater and poof!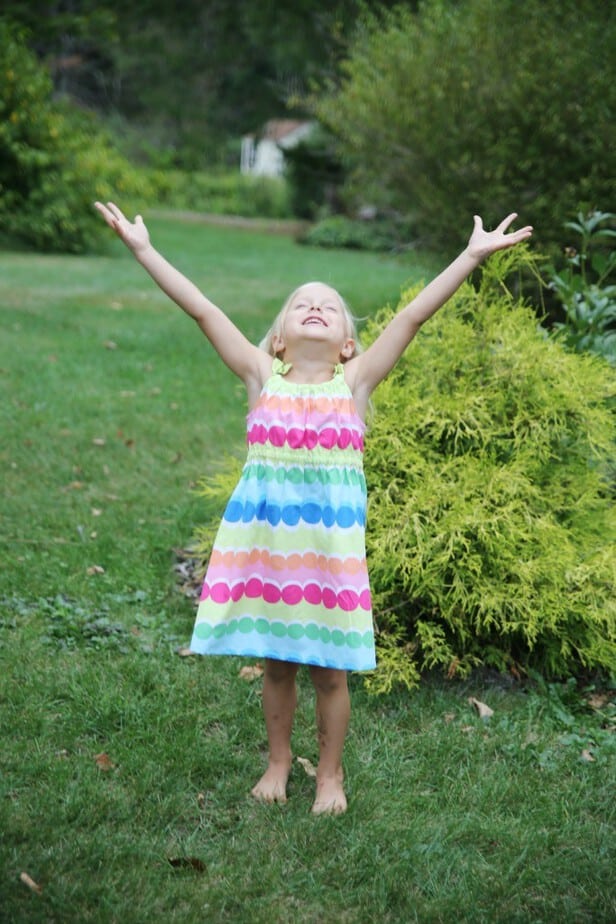 You're into the next season. Dollars stretched. (Seriously, I LOVE this dress. Clearly she does too!) Also? It was new with tags at Moxie Jean. I bet a parent like me fell in LOVE with the fun colors and the circle print and grabbed it for a steal- only to find their former dress wearer no longer had interest in dresses and refused to wear it. Their could-have-been loss turns into b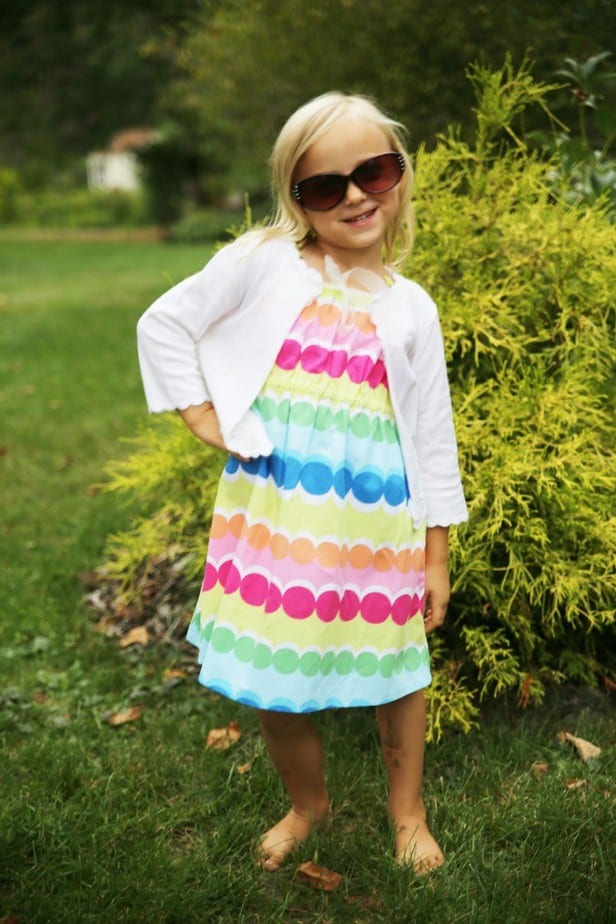 Do you have your own method of saving money when it comes to clothing your children? Share in the comments below!
From this year's press release from the National Retail Federation about Back to School spending: "shoppers will spend an average of $231.30 on clothes, up from $230.85, and $124.46 on shoes, up from $114.39 in 2013." That's $355 each family will spend on Back to School clothes! We will be giving away a Back to School Wardrobe gift card for $177.50 – the winner will be able to get a full back to school wardrobe for HALF of what it would cost new – even with all the BTS sales.
This is a sponsored conversation written by me on behalf of Moxie Jean. The opinions and text are all mine.
Google+ Comments