I LOVE word games.  L-O-V-E them.  I'm so excited that my oldest is wanting to play them with me.  She's tried Words with Friends a few times- she does pretty well, in my (completely biased) opinion!!  My mom had given us Bananagrams®a few years ago, and we've played variations on that game ever since.  Since that time, Banangrams has extended their family of games and sent us each of them for review, including Bananagrams, Appletters®, PAIRSinPEARS®, ZIP- IT® and Fruitominoes®.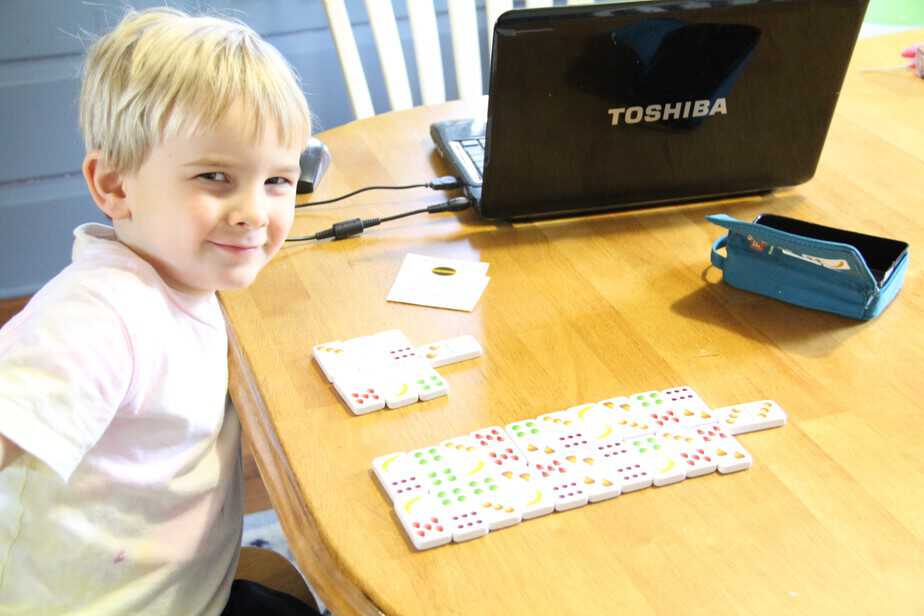 There are summaries of each game below- we've played Fruitominoes the most so I'm going to share our photos from that.  This game has been fun for all 5 of us in my house- from my 2.5 year old all the way to me, the oldest in the house!!  For my little one, she helps to match the fruits and count how many are on each tile.  For the kids, they are getting really into dominoes of any variety and the fruits kind of level the playing field, because my son doesn't always recognize letters or numbers as fast as his big sister or the adults.
Games like this are also wonderful for folks in our lives like my father who are suffering with memory illness like Primary Progressive Aphasia and Alzheimers- for a long time, they can still recognize things like fruits and shapes even if they can't recognize the numbers or letters on a tile.  So – Fruitominoes is a game I have been bringing and will continue bringing when we spend Monday mornings with my dad.  Maybe he'll be into playing it, and maybe he won't, but at this stage of the game, anything that can get us "connected" makes my heart happy and who knows, it could do wonders for his psyche if he's finding he's able to successfully play a game with us.
As with ALL of the games and products in the Banangrams family, the Fruitominoes come in a self-storing container made of strong, durable fabric and good quality zipper closures.  The tiles are a solid material and don't bend, chip nor flake their paint no matter how hard nor far they are thrown (don't ask why I know this but I do).
The games are meant to be fun for all ages, and portable, and I genuinely believe that they ARE fun for all ages and suitable for play just about anywhere.  They make for wonderful gifts or even just for no reason at all!!  I definitely recommend having some if not ALL of these games from Banangrams in your game closet!!  These games are great for travel, for home, schools, clubs, camps, and more!
The original Bananagrams game grew from a passionate love of games. As a family, we loved to play almost any word game that we could find, but they all had their flaws and we hankered after something a bit faster and more fluid.

We wanted a game that was competitive, but that the family could play together – ALL ages at the same time. It had to be portable, so that we could take it with us on our travels, with no superfluous pieces or packaging, and simple enough that we could play while waiting in a restaurants or hanging around in an airport.

BANANAGRAMS

"The anagram game that will drive you bananas!"

Bananagrams is the first in the bunch, the game that started it all. Players race against each other to build crossword grids and use all their letter tiles. There's no turn-taking to be found here—it all happens at once and it's a race to the finish.

APPLETTERS

"An apple a day for us all to play!"

Appletters is a strategic game of lettered tiles, packed in an apple pouch. Originally designed with younger players in mind, Appletters features three levels of play to amuse children and challenge adults. Players take turns building a "snake" of words that stretches across the table. New words are added to the first or last letter of the "snake", and the first player to use all their tiles wins. It's an addictive, intense, and exhilarating game, but the fun doesn't end there. You can use the same tiles to play Applescore, with bonus points for big words, and Apple Turnover, where words can be replaced— but only with longer words. One game, three levels of play.

PAIRS IN PEARS

"Fresh fun comes in pears!"

PAIRSinPEARS, true to its name, is a fast-paced pair-making game, packed in a pear. Lettered tiles come in four distinct alphabet sets, and players race against each other to make connected pairs of words in matching patterns. It's a great way for children to develop memory and cognitive skills while learning the alphabet, pattern recognition, word construction, vowels, vocabulary, rhyming and more. Deceptively simple and exceptionally fun, PAIRSinPEARS is perfect for family time and classroom activities.

ZIP-IT

"The twenty-second word race you can play anyplace!"

ZIP-IT is an exhilarating, high-speed, two-player game played with 24 lettered cubes and colored scoring zippers that come built into the pouch. Each player takes 12 cubes and races against their opponent to build a word grid. One hand can be played in as little as 20 seconds, and everything you need is in the bag! Playable on an airplane or train tray, ZIP-IT is the ultimate travel game. Each pouch includes a WEORDS dictionary of weird words that win word games!

FRUITOMINOES

"Connect fruit…instead of dots!"

A fresh, fruity, and colorful twist to the classic game of dominoes! Each player takes turns matching the six attractive fruit patterns. Twenty-eight Fruitominoes in a compact pouch make this a game that's great for young and old.
One lucky reader will win a set including 1 of EACH Bananagrams family of games!!
I received samples of this product to facilitate my review.  Opinions are my own.
0