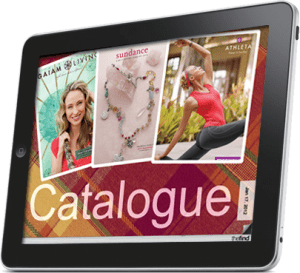 So I have this super fun new toy.  Maybe you've heard of it, the iPad3?  Yea, I'm all kinds of lucky.  I finally have one.  My husband jokes that it has become attached to my hand.  Not quite that bad, but probably not that far off.
One thing that's fun about the iPad are the apps…I've found so many fun apps so far, but one of my faves is the Catalogue App (which is FREE, another favorite thing of mine) and let's me enjoy a favorite past time- browsing through catalogs and window shopping (page shopping? screen shopping?) from the comfort of my couch, without leaving the house.  What I like about Catalogue is that there is no waste – no shipping costs for the catalogs to arrive at my house, I don't have to worry about trees cut down to print it, or making sure it gets into the recycle bin…and I definitely don't have to worry that the kids cut it up for an art project or that it got juice spilled all over it!
What makes this app even more fun is that you can pull things from different catalogs together and look at them right along side one another- and the camera view is fun to see how things would fit/look at your own house.  Remember, this is all done without having to leave home!  FUN!  Logging in through Facebook ensures you get a personalized experience…and you can share your finds with Facebook friends (see, you can bring your girlfriends to shop with you anywhere you go!)
The Catalogue App by TheFind.com is a free and new way to browse through all your favorite store catalogs available for iPad, Kindle Fire and Android (large screen) phones.

At any time, there are roughly 95 catalog merchants featuring 175-200 issues inside the app including fashion, beauty, home, kids and more.

Unlike traditional catalogs, Catalogue consumers can pull together their own personal favorites from various brands into one location, check local store availability, take a peek at the retailers sale emails and, "using Camera View", can even see how an item would look in their own home.

Catalogue also features store email that allows the user to obtain the most recent deals and promotions put out by the brand. News and upcoming events are also collated conveniently inside the app. Here the user can find the best deals and discounts without having to clog their regular email account with unwanted spam.

Catalogue also offers a "green" alternative to the classic catalog shopping:

• 5.6 million tons of catalogs and other direct mail advertisements end up in U.S. landfills annually.

• The average American household receives unsolicited junk mail equal to 1.5 trees every year—more than 100 million trees for all U.S. households combined.

• 44 percent of junk mail is thrown away unopened, but only half that much junk mail (22 percent) is recycled.

• Americans pay $370 million annually to dispose of junk mail that doesn't get recycled.

• On average, Americans spend 8 months opening junk mail in the course of their lives.
Don't have a tablet or smartphone that can use this app?  Don't worry- there's a Facebook app for Catalogue as well.  It doesn't have all the bells and whistles of the regular app but has many of the features.     This app IS available for Kindle Fire users.  Kind of cool, right?
I'm thinking that when it is time to start birthday shopping for my kids, and again for holiday shopping, this app will be amazing to help me price things and make sure item a goes with item b!  Don't you agree?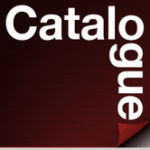 This post is part of a Blogger Ambassador program which I have received monetary compensation for participating.  Opinions are my own.
0