It's amazing how fast the luxuries of summer can fade, only to be replaced by the sudden onslaught of organization and the need for structure. It seemed that the hours of the day were short enough during the summer, and now a majority of daylight hours are consumed at school for the kids and catching up on all of the projects I procrastinated around for the entire summer…and early fall.  Are you in the same boat? I've put together a few tips that have helped me to get back in the swing of things.
3 Simple Back to School Tips
Organize a Command Center:
If you don't already have one, this would be a great time to create it. A command center can look how ever your family would like, but the purpose is essentially the same across the board. It should be a central area where your family can pass notes, pass off papers, store keys, and have a collaborative calendar. The concept of this, and even the location, will be different for every family. Whatever works best for yours! Ours is below. We are actually adding a weekly calendar for each kid in the breezeway for them to remember library, gym, activities etc.
Have Quick Meals On Deck:
While it's fun to spend a day in the kitchen whipping up some comfort food, it's important to be realistic during the school year. Some days will call for a much quicker approach to nutrition, and it's helpful to have some ideas in mind beforehand. My kids are very active so we love McDonald's kids meals. I love they are adding healthy options for my kids that are quick and easy.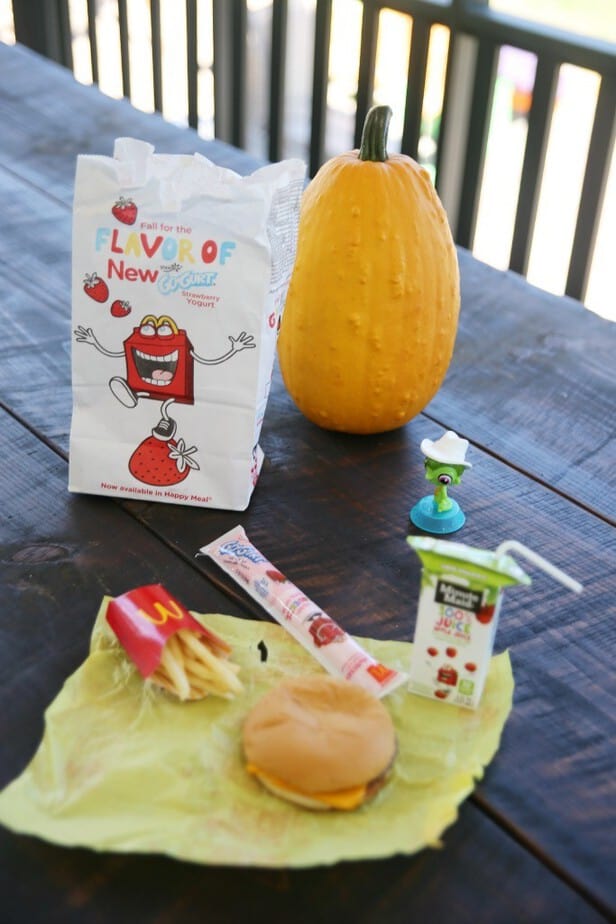 Did you know that since July, kids can choose between a go-gurt and apple slices in their meal? There will even be clementines available later this fall. Ever since 2013, when they partnered with the Alliance for a Healthier Generation, McDonald's has made a commitment to nutrition. The goal of the partnership is to increase access to fruit, veggies, and low-fat dairy.
Establish Morning and Bedtime Routines Early On:
How your day starts and ends plays a major factor in what happens between. Setting a schedule early is the best way to keep things flowing smoothly. It's a great idea to have clothes, backups, lunches, and more in place the night before. Scrambling for things in the morning is not fun and puts everyone on edge.
Likewise, a consistent routine at bedtime is comforting and makes it much easier to fall asleep. Both for the kids, and the parents.
While I'm not COMPLETELY done pouting about the end of summer just yet; I do have to admit I'm quickly adapting to the sweaters, boots, fallen leaves and football!
What's hardest for you to adjust during back-to-school season? You will be entered to win a $25 McDonald's Arch Card by answering this question with a thoughtful response. Good luck!
I received compensation from McDonald's in exchange for writing this review. Although this is a sponsored post, all opinions are my own.