>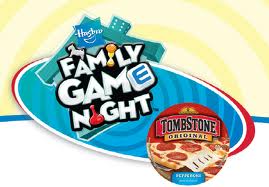 If you're heading to Walmart or Toys R Us, look for Hasbro game rebates. These rebates are found in both stores nationwide. (Sometimes Target has them also, and Kohls too).
Get a FREE tombstone pizza (up to $7.01) when you purchase any Hasbro game. You'll get a coupon for a FREE tombstone pizza via mail. Purchase must be mail between 02/25/11 and 04/30/11. Get up to FIVE!!! free Tombstone coupons. You can also print the rebate form here
Hasbro games include Milton Bradley and Parker Brothers.
While you're at Walmart, (unless you are in a Walmart in CT and they don't sell beer) look for a $5 rebate on the Coors display. Get $5 back when you purchase 2 DiGiorno pizza's!
Thanks The Coupon Challenge for the reminder!!