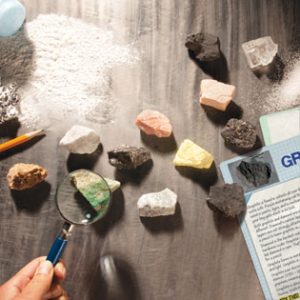 My kids are really in to science this summer, and who am I to deny them opportunities to expand their knowledge?   I am constantly on the lookout for science related games and activites.  I'm not always the most creative when it comes to thinking up new activities so I frequently turn to online webstores for suggestions.  I was absolutely thrilled to review another great item from Educational Insights.  Our go-to site for all things educational and FUN!
Today I am reviewing the Everyday Uses Rock and Card Set.  This is a really cool rock and mineral identification set.  Although my little guy is only 5, this set definitely appeals to his sense of curiosity and investigation.  
Item Description:
"Identify various rocks and minerals and correlate them to their real-life uses with this hands-on rock and card set. Each double-sided card features a photo of a rock in the set, pictures of the way it is used in everyday life, and fun, kid-friendly facts."
Includes 12 rocks, storage tray, and 12 6″W x 9″H double-sided cards
Teaches natural resources
Correlated to state science standards
You can check out the Everyday Uses Rock and Card Set here.
Ages 8-12
Retail $29.99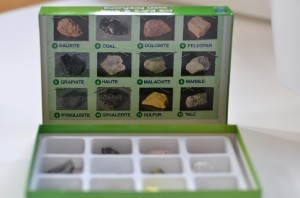 This set includes the following rocks and minerals:  Bauxite, Graphite, Pyrolusite, Coal, Halite, Sphalerite, Dolomite, Malachite, Sulfur, Feldspar, Marble and Talc.  The rocks are packaged in order as they appear on the inside lid.  There is a set of 12 stickers with the mineral names.  The stickers can be applied to the smoothest part of the rock or mineral.  Each rock comes with an information card describing it's uses, facts, where it is found and fun activities.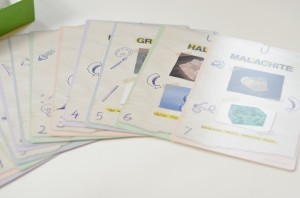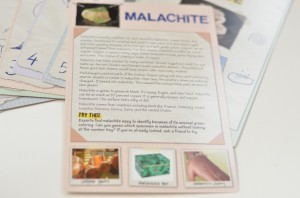 My Impressions:
Although this set is intended for children aged 8+, my 5 year old really enjoyed it.  I sat down with him and we placed the correct stickers on each rock, then reviewed the names of the rocks.  He was very interested in the fact cards and wanted to read each one, matching it with the correct sample.  We even did some of the fun activities, which were great for his age.  The Pyrolusite card activity involves passing the rock back and forth between your hands to get them dirty.  He loved that!
For older children or for teachers using this activity in the classroom, EI has provided a handy worksheet with multiple choice answers.  This sheet is reproduceable and can be found here.  This is one of the great advantages of ordering from Educational Insights.  They often provide extra materials that can be used at home or in the classroom for further learning.
This is a really versatile activity that can be catered to younger and older children.  I am sure that we will have ours for years to come.  I am looking forward to adapting the activities in this set to fit my child's needs.   
One very lucky reader will win their very own Everyday Uses Rock and Card Set!
Mandatory Entry:
 Mandatory Entry:  Leave a comment with your name and be sure to include a valid email address in the comment form!Visit Educational Insights and tell me what your favorite product is.
Extra Entries:
1. Follow Educational Insights on Facebook
2. Follow me on GFC, Facebook, Twitter or RSS/Email Subscription (+1 each)
3. Share this giveaway on any social networking site (leave URL of your post please!! hint: right click the time stamp!!) 2x/day at least 1 hour apart
4. Leave a comment on any non giveaway post +1/post up to 5 comments
5. Tweet this giveaway: #win a rock and card set @EI from @mamatomjr @jendpt http://wp.me/p1qA6G-28N (can be done 2x day at least 1hour apart)
This giveaway will end on July 5, 2011 at midnight, EST. US only. Winner to be chosen randomly. Winner has 48 hours to respond to my email or a new winner will be chosen.
I received a sample of this product to facilitate my review. All opinions expressed are my own. [ad#glam between posts]
0