Over the winter I participated in a Favorite Things giveaway hop.  I decided to join with some of my favorite blogging friends for a My Favorite Things Giveaway Hop again for a summer version! These prize packages are put together by us for YOU and are filled with our favorite things! Ready for some fun!?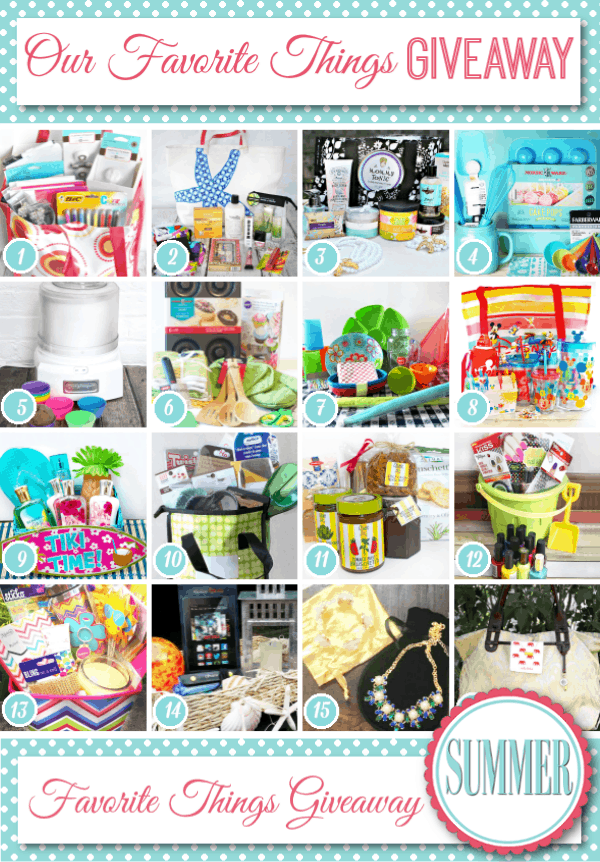 Here's the low down on this giveaway hop- all 16 of us have the same format on our posts so it's easy to follow along. Each prize pack has at least a $50 value and has some of OUR fave things!!
Take a look at the collage above to see all the amazing giveaways!
Scroll down to see  giveaway details.
Enter to win My Favorite Things prize package below.
HOP around to all the other sites, check out their amazing prizes, and enter to win their gifts!

1. A Helicopter Mom | 2. About A Mom | 3. Moscato Mom | 4. Homemaking Hacks | 5. Kids Fun Review | 6. Better in Bulk | 7. A Nut in a Nutshell | 8. My Sweet Sanity | 9. Mom Luck | 10. Around My Family Table | 11. The Rebel Chick | 12. Just Stop Screaming | 13. Sunshine and Sippy Cups | 14. MiscFinds4U | 15. The Divine Miss Mommy | 16. This Mama Loves

Two of my biggest loves (that aren't human) are bags and personalized items.  I LOVE them both.  I honestly would wear monogrammed stuff every day if it was a possibility.  Or at least put the kids in it.  I think I get it from my mom, because there are pictures at many ages where I was wearing sweaters with "Brett" or "Brettie" or my initials from childhood in existence. The bag thing? Probably not so much from my mom. She was more into function. I just love bags. I also change them often, so I like to keep options open based on my mood, my outfit, etc. My Favorite Things giveaway prize pack is a fab bag and a fab engravable necklace for one of you! My niece in law is a Stella & Dot stylist.  She's also one of my favorite people. So naturally, when I saw her sporting some new personalized pieces I had many, many questions for her!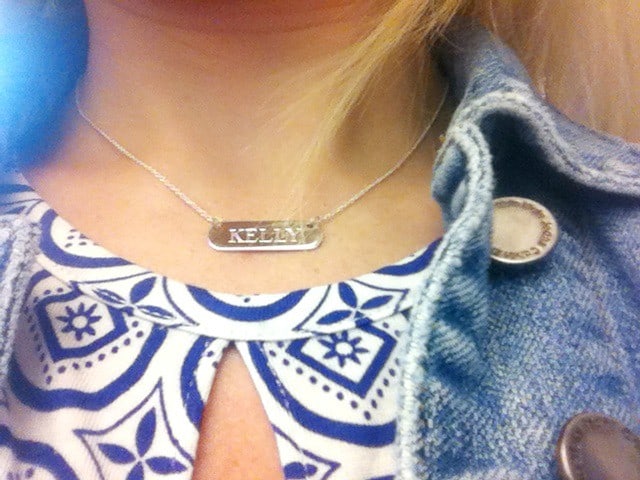 I love this bar necklace.  LOVE it.  I wanted to do my Twitter handle on one, but it's 8 characters available and my Twitter handle is too long… maybe I should change my Twitter handle.. ha! Given how much I love these bar necklaces… this is the first part of My Favorite Things prize pack that one of YOU will enter! It comes in silver and gold for color and you can use 8 characters…so start thinking of what you want to put on your necklace if you win! We will be ordering it through my niece so you will choose what you want and I'll be paying for you! The engravables range from $32 to $98 in price- the bar necklace we are giving away retails for $58!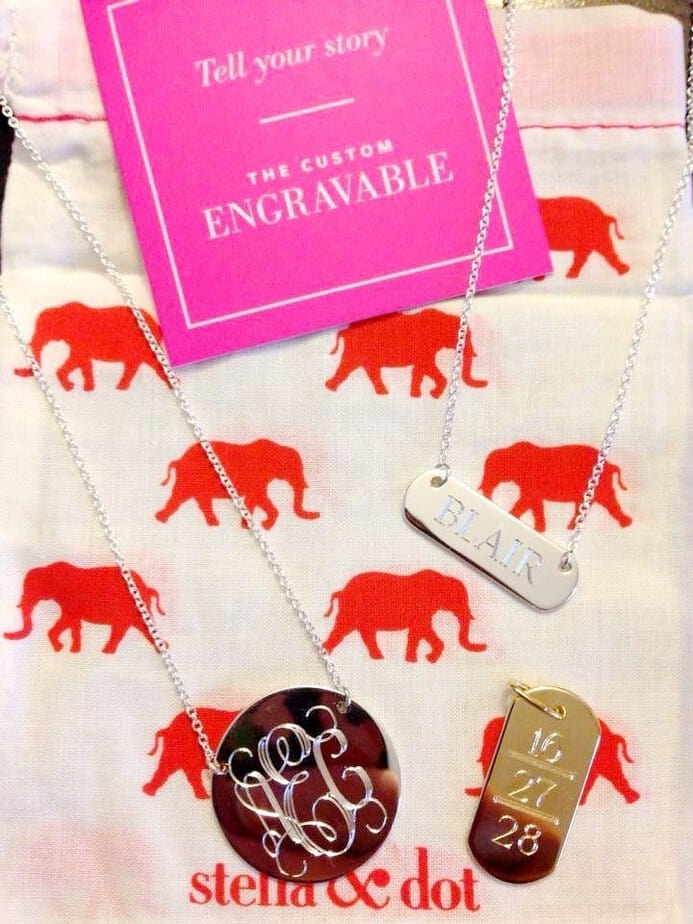 A note about the engravables from Stella & Dot– these aren't available to order online, you'll need to reach out to a consultant directly…. Kelly will be glad to help you I am sure- KNLaur@gmail.com is her email. Tell her I sent you! Also please feel free to share a pic of your new jewelry when you get it with me, I would love to see!! And now, bags. I love bags. If you ask friends, they'll probably tell you at one point or another they have shopped for a bag in my closet.  It makes my husband crazy but it's me and it's who I am.  For a brief time I had a thing for diaper bags, but since the kids have outgrown them, that's kind of over. I had eleven at my highest.  Totally serious.  Bags = awesome. Since I my mind was already ON Stella & Dot and I just ordered my first bag from them, I thought that part two of my giveaway for My Favorite Things should be a bag from there, as well.  I went with a bag that so many have ordered and loved and ordered as gifts – the Metallic Ikat Tote Bag!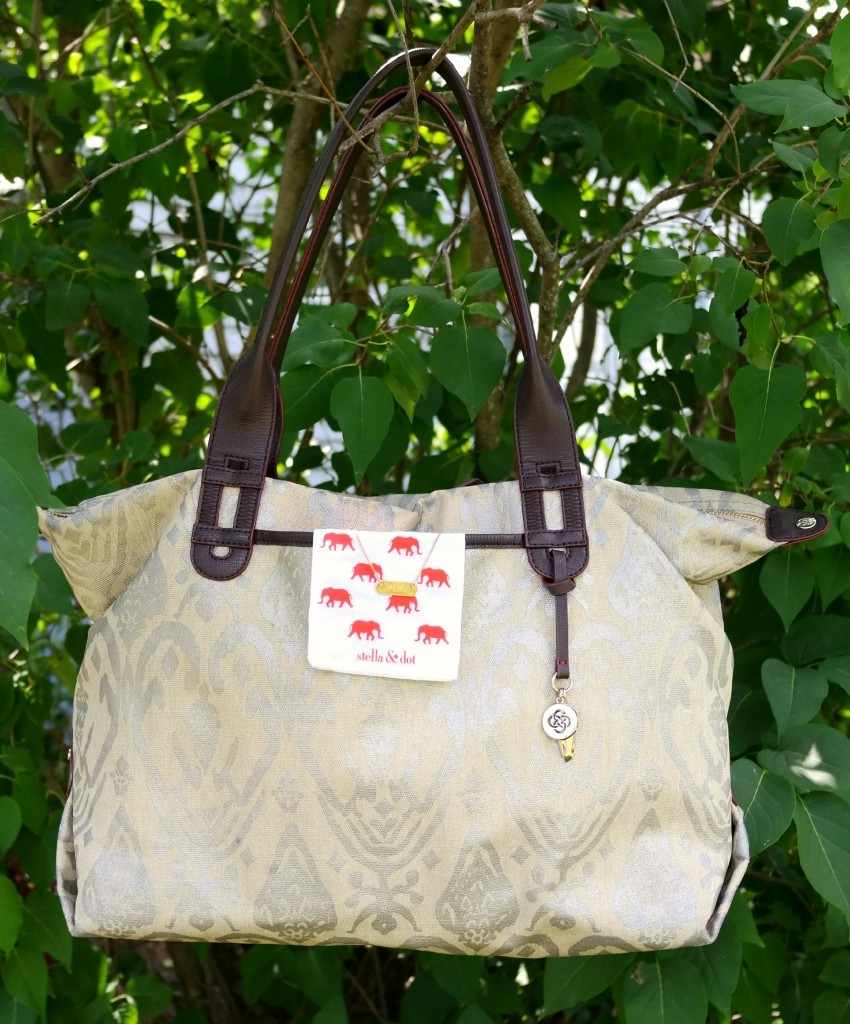 The bag is en route to my house as I write this so I will have to update with more photos when it comes.  This is Kelly's bag shown above with one of her necklaces. I can't even wait to get mine! The reason I chose THIS bag- well, there are multiple reasons. But my sister has it in the navy color and the versatility paired with the gorgeous fabric make it almost the perfect bag (I think there is no one perfect bag because I change my mind on what I like from day to day)!!  You can transform this bag to make it larger and hold more stuff, and you can fit  your things – and I mean ALL of your things- without worrying about space. There's pockets, there's quality construction, and there's GORGEOUS fabric that can suit just about any taste.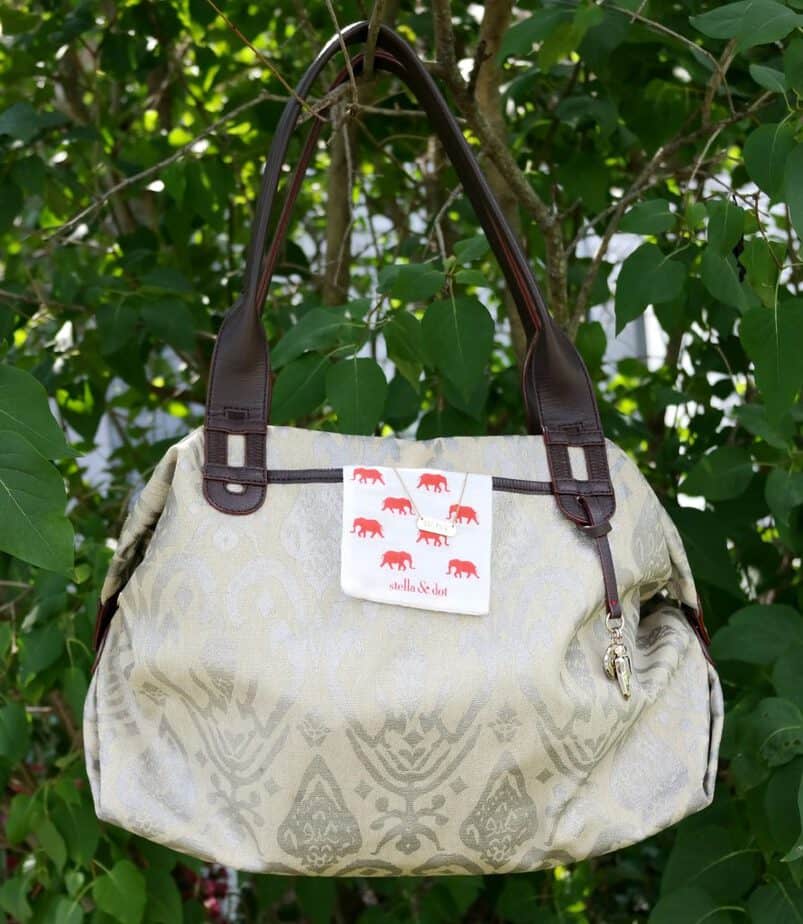 The Ikat Tote transforms in a snap from a carryall (and boy, do we mean all) to a satchel. Interior smart phone pocket, zip pocket, and water bottle pocket. It retails for $98 (although it's on sale right now for $58!)

Measurements: height – 12.5″, length 19″, depth 5″, strap drop – 8″.
Exterior: metallic ikat in coated linen.
Interior lining: red diamond print in spill resistant material.
Trim and handles: espresso textured.
Top zip closure.
Signature Stella & Dot hardware: gold clover and arrow charm.
1 exterior slip pocket and 3 interior pockets to fit your phone, keys, and, wallet.
 My Favorite Things prize pack with the engravable bar necklace and Ikat bag is valued at $116! I can't wait to spoil one of you with these fabulous items!