This summer BenBella Books sent me another great read to review, Food Over Medicine, The Conversation That Could Save Your Life.  Pamela A. Popper, PhD, ND, and Glen Merzer.  They talk about the the current state of health in America and how diet can improve peoples conditions.  They share success stories, recipes and tips on managing your doctors.  This is an easy read book that keeps you engaged and  provides important information that can change the quality of your life.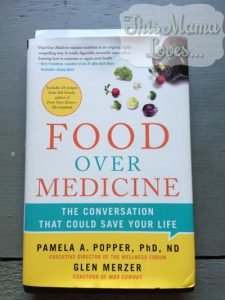 About The Book
Almost half of Americans take at least one prescription medicine, with almost a quarter taking three or more, but diseases such as diabetes, obesity, and dementia are growing more prevalent than ever. Overmedicated, overfed, and malnourished, Americans fail to realize the answer to lower disease rates doesn't lie in more pills, but in the foods we eat.
In Food Over Medicine, Pamela A. Popper, PhD, ND, and Glen Merzer openly discuss the dire state of American health, the result of poor nutrition choices stemming from cynical food politics and medical misinformation. But, more important, they share the key to getting and staying healthy for life. As executive director of The Wellness Forum, Popper works to change lives through diet and lifestyle, reduce medical costs for businesses through health education programs for employees, and educate health care professionals on the healing potential of an optimal diet.
Backed by numerous scientific studies, Food Over Medicine details how diet can dramatically improve health and turn around alarming diagnoses—such as high cholesterol, high blood pressure, Crohn's disease, multiple sclerosis, and other major health problems—and do so more effectively than drugs that often have lingering side effects. Including recipes from Del Sroufe, author of the bestselling Forks Over Knives—The Cookbook, Food Over Medicine reveals the power and practice of optimal nutrition in a highly accessible way.
About The Authors
Google+ Comments