Yay for freebies!! I'm downloading these free LeapPad apps while I type this post up quickly so I can't share what we think, but I'm confident they'll be fun, I haven't met any LeapFrog stuff that wasn't in all my years of parenting!!
Getting these freebies is simple- connect your unit to the computer, go to the App center, and enter the codes below to redeem!!  These will work on your Leapster Explorer AND your LeapPad!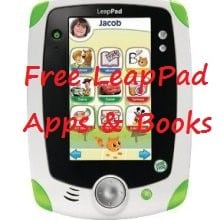 To get your FREE eBook "The Book of Super Awesome Stuff"
Enter code 5813-1140-1518-1413
To get your FREE Game "Alphabet Stew"
Enter code 5813-0790-4610-4973
Some of my kids' favorite games and apps include: (These are games we have that my kids use a LOT.  We haven't tried every game to see what the best is, but if you are new to LeapPad or Explorer, they may give you a starting place!)
Disney Animation Artist– step by step instructions to draw favorite Disney characters- in different poses.  My kids adore this one.
Music Studio & Art Studio are great too- gets kids to play around and be creative.
Favorite eBooks:
Tinkerbell
Cinderella (ultra)
T-Rex 
Games:
Jake and the Neverland Pirates
Scooby-Doo
I Spy Super Challenge
Dora the Explorer
Magic School Bus: Oceans