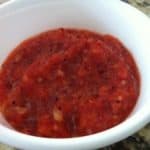 I have been buying Bountiful Baskets the past few months and with that comes TONS of fruits and veggies that I might not have bought regularly. I have thought up a few ways to use some of the odd items here and there, or have traded with a friend. Well, I am no longer trading my kiwi's! Here is one of my favorite SUMMER recipes!
Fruit Salsa
1 Kiwi
1 Apple (red)
1/2lb of Strawberrys
Chop all up together and dip out with grahm cracker sticks….such a light sweet summer treat. If I were taking it to a party, I would dress it up with a Mint leaf and cinnamon tortilla chips to dip in it!
The other recipe, I learned a few months back and am also obsessed with making it!
1 Can Cannellini Beans
2 cloves of garlic
1 tsp olive oil
pinch of cayenne pepper
I put all of this in my chopper and blend it good! I eat this one with Reduced Fat Triskets. YUMMY!
Thanks to Courtney from My Crazy Savings for sharing!!
[ad#glam between posts]
0