First and foremost, friends, I want you to save June 8th from 6-6:30PM EST for a webinar about Damage Control: Live Webcast with John Frieda International Creative Consultant, Harry Josh! During this 30 – minute interactive webcast, Harry will reveal how to practice safe styling with Full Repair by not only reversing the look and feel of overworked hair, but also shielding hair from the effects of overstyling.   If you have hair, you might want to sign up.  Plus, read below.  You want to.  Or you may not now but there's a freebie involved for those who sign up so READ BELOW!!
The salon-inspired Full Repair collection is the first weightless solution for overworked and overstyled hair. We would love for you to invite your readers to sign up for this webcast. Each participant who signs up will be asked to submit a question for Harry Josh and in return will receive one full-size product from the Full Repair collection:  Those with fine hair will receive a Perfect Ends Sheer Mist and participants with thick hair will receive a Perfect Ends Deep Infusion.
Harry will answer all submitted questions during the half hour live webcast and will provide a special code that participants can use to enter to win the grand prize – a trip to New York and a haircut/style with Harry!  
Plus, you can get your hair questions answered by an EXPERT!! How cool is that? I want to think up a good question to ask – any suggestions? What are your need-to-know hair questions? 
ALl this talk about hair damage- we all do it to ourselves- or at least- most of us women do, some men.  I hate the color my hair is without color. I love the options, the depth, the change that hair color offers- even with the damage the color does to my hair.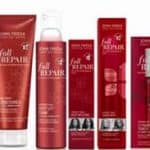 So, what's a girl to do?  Not color and be unhappy with hair color, or color and deal with damage?  I'm the latter.  Thumbs up for you if you are the former, but I tried that route and my hair made me just plain sad.  Thankfully there's folks out there like John Frieda who make products like the Full Repair line to help to undo the damage we do to our hair.  The Full Repair line has Inca Inchi Oil in it whichis rich in Omega-3 and infuses with the hair to undo some of the damage we do it.
I'm really excited to try this product- I've only ever had great experience and results when I've used John Frieda products and I love that they offer high quality product with excellent results at a price point most of us can afford.  I love that they have stayed affordable for the masses over the years.
The Full Repair site even gives tips to minimize damage- because we all know that its quite hard to live 100% without a blow dryer (use a diffuser, hold it further away, use the cooler air settings), get a good ceramic flat iron that heats evenly, use a wide tooth comb and  a paddle brush- and more.  I like that they help share ways to minimize damage- and I'm excited to try out the Full Repair products and see how well they reverse the damage I've done in the 22 years I've been coloring my hair (OMG 22 years of color.  That's a really long time.  Am I getting old?)
One of my readers will win a Perfect Ends Root Lift Foam and The Touch-Up Flyaway Tamer from the Full Repair line!
Mandatory Entry: Leave a comment with your name and be sure to use a valid email so that I can reach you if you win!
Extra Entries:
Like John Frieda on Facebook (you'll want to anyway so you can attend the webinar on June 8th!!)
Follow my blog via GFC or RSS Reader +1 entry each
Share this giveaway on any social networking site: #Win #FullRepair products from @mamatomjr #JohnFrieda #haircare http://wp.me/p1qA6G-1XY (can be done up to 2x/day at least 1 hour apart per site)
Sign up for the webinar (and why not?  There's a freebie for those who do and submit a question!!)
This giveaway will end June 23 2011 at midnight, EST.  US only. Winner to be chosen randomly.  Winner has 48 hours to respond to my initial contact or a new winner will be chosen.
Samples of this product will be recieved in exchange for this post.  Opinions expressed within are my own.
[ad#glam between posts]