The following is a special guest post for This Mama Loves readers.  Can you even believe it's time to start discussing (and strategizing) Black Friday and Cyber Monday?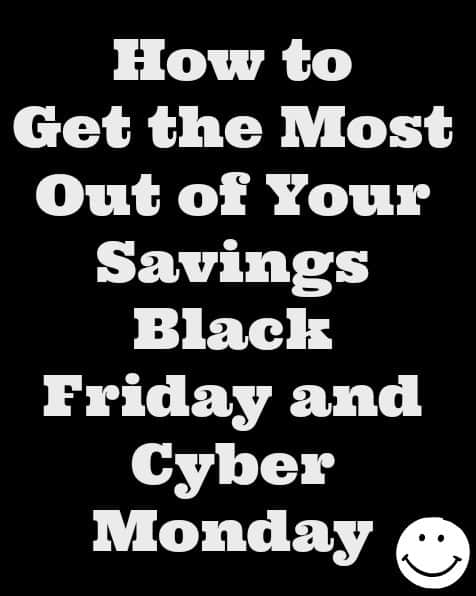 When you are out and about on Black Friday and Cyber Monday, your goal is likely to meet as many of the gift needs of your friends and family as possible. Saving money is also important, but in all of the hustle and bustle of the shopping trip, it can be easy to forget that you may not have done everything you could to maximize your savings. Here are some things you need to pay attention to.
Credit Card Reimbursements
Discover and some other credit cards have started offering additional bonuses to shoppers on heavy shopping days like Black Friday and Cyber Monday. If you make a purchase at a certain store for a certain amount of money, then they will refund part of the money to your account. In some cases, such as Discover's Burger King promotion, the refund occurs automatically. In others, you have to scan your receipt code to demonstrate that you have actually made the purchase. Check the fine print to make sure you do whatever is needed to get that reimbursement.
Send in Your Rebates
One of the most common areas that people lose out on potential savings is by forgetting to send in their rebates. According to Retail Me Not, over 60 percent of shoppers forget to claim their money, meaning that they did not get nearly as great a deal as they thought. Handling rebates in the middle of the holiday season can be tricky, particularly when coupons are so much easier. However, rebates can save you hundreds of dollars on big purchases. Ideally, you should send in your rebate as soon as you get home, but if you don't have time, then put it some place you will not forget. Then set a reminder for yourself.
Find Out Whether the Store Matches Other Ads
Traveling from place to place on Black Friday and Cyber Monday can be a challenging thing, particularly when traffic is backed up for miles. Instead of trying to fight through all of the streets and roads to get to multiple stores, find out whether the stores you visit will match competing ads. Most of the time, they will require that you bring in proof of the other store's offer, but you can do this easily with your smart phone. A number of apps exist for downloading competing apps and providing scannable bar codes. By using these apps and focusing on stores with matching policies, you can save yourself a good amount of time, increase your savings and reduce your stress.
Saving money is important when you're trying to buy gifts for your family and friends. However, you need to do more than just look at the sales price. Find out whether credit card reimbursements apply to certain stores during your credit cards' holiday specials. Also double check what you must do to qualify. When you get a product that has a rebate, make it a priority to send it in. Additionally, cut down on your road time and increase your shopping time by finding out whether the stores you're visiting will match other stores' ads.