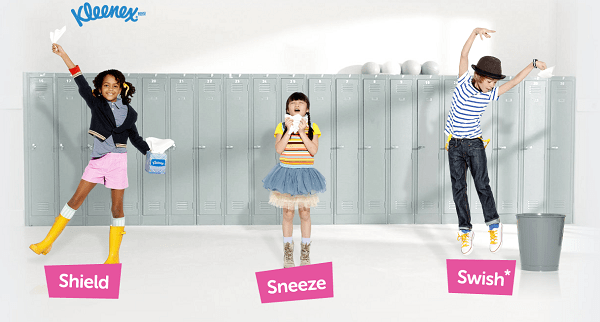 I can't believe I'm writing this but it's almost time for Back to School….well, for some of you.  Here in Connecticut we don't go back until the very end of August, but I know many will be back in school in just a few short weeks!  With back to school comes lots and lots of exposure to germs- and like it or not, no person is exempt from those germs.  Kleenex has started a really fun and "hip" new campaign called Kleenex Shield. Sneeze. Swish.which is a three-step routine that was developed to teach kids how to keep stuff off of their hands so parents can feel confident when they head back-to-school. They've even included the beloved holiday-time folks over at Elf Yourself in the campaign!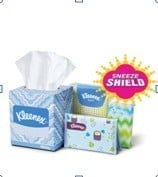 When it comes time to sneeze, it's important to have Kleenex brand facial tissues with Sneeze Shield, a proprietary process of coating applied to the tissues that helps keep stuff off of hands and in the tissue. It's easy for Mom to feel confident that her kids can use Sneeze Shield wherever they go with Kleenex brand's convenient package shapes and sizes, including:
The Slim Pack. It is thin and sleek, so you can always keep a tissue on hand. Their trendy design makes it the perfect accessory for hip tweens and teens, while their convenient size makes it easy to slide them into pockets, back packs and bags.
The Car Wedge. It fits perfectly in the car door or glove compartment – no need to lug around a box of tissue or fumble in a purse for a tissue while driving.
The Go Pack. Strong, soft and absorbent, Kleenex brand go packs have been there for happy tears and stuffy noses since 1924.
So let's all learn the Shield. Sneeze. Swish.!
Shield your kids with Kleenex brand's unique Sneeze Shield tissues
Sneeze when you gotta!
Swish that Kleenex tissue right into the waste basket (two points!)
Visit www.Kleenex.com to become a star in the Kleenex Shield. Sneeze. Swish. video and for helpful tools to teach your kids the Sneeze Shield routine. You can even create a video starring your child from the makers of Elf  Yourself to help them really get into the idea of Shield. Sneeze. Swish.!  Here's my son starring in his video!
One reader will win a $100 Amazon Gift Card so you can be sure to have enough Kleenex in the house before the kids head back to school!
Javascript must be enabled to enter this giveaway. Learn how to activate Javascript by
clicking here.

Loading Entry-Form

 I will receive a promotional item to thank me for sharing this information with you.  Opinions are my own. 
0