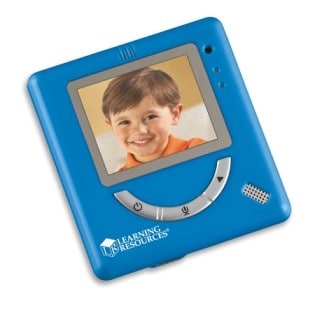 If your kids are anything like mine, they LOVE recording themselves! One of their favorite activities is to watch the videos I take of them on my phone. Since I don't really love the idea of letting them play with my phone, I was so excited to learn about the MeCorder from Learning Resources. This cute little video recorder is only 2.25″ square. The perfect size for little hands and little pockets. There are only 3 buttons: Power, Record and Playback. It was easy enough for my 3 year old to figure out. This adorable little recorder is sturdy and can withstand some rough and tumble play (within reason). My son has used his MeCorder to video a recent hike and to record his "news shows" in which he love to play anchor (don't ask me where he picked that up, I don't even watch the news!).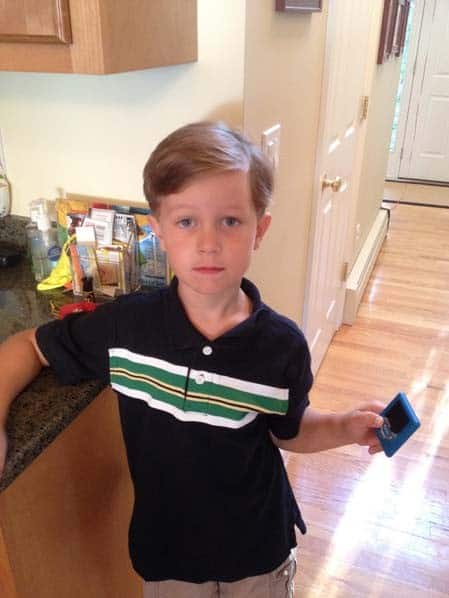 Look at all the great features the MeCorder Offers:
Lets students see themselves as they record!
Simple, compact video recorder for speaking and listening practice and collaboration in beginning tech projects
Document and assess their learning, then upload and share
Features 30-second recording, playback, LCD screen, mic, USB, and magnetic back
Measures 2.25″ x 2.25″
Grades 2+
Skills
Self-Help
Social & Behavioral
Cognitive: Receptive Language
Cognitive: Expressive Language Key Points
Children can see themselves as they record – great for enhancing articulation practice
Use for self awareness/self assessment/biofeedback in the areas of grammar and speech articulation/phonology. The ability to replay and repeat is key for children, along with seeing how their mouth is formed to produce the sounds
Recordings can be uploaded to collect goal progression data
Aids auditory memory deficits by recording directions for a child to replay when necessary.
Can be used to reassure a child who is apprehensive experiencing novel situations. Mom and Dad can record reassuring messages that the child can play back, for instance on a school bus.
Also great for sending messages and progress back and forth between parents and teachers.
This is a really great product for back to school. It can be used as a great way to communicate with your child and their teachers during day, as well as a way for your child to learn. I am anxious to use this product on my 3 year old who suffers from some speech delays. I think this will be a really great way for him to visualize how to make sounds and observe his own speech.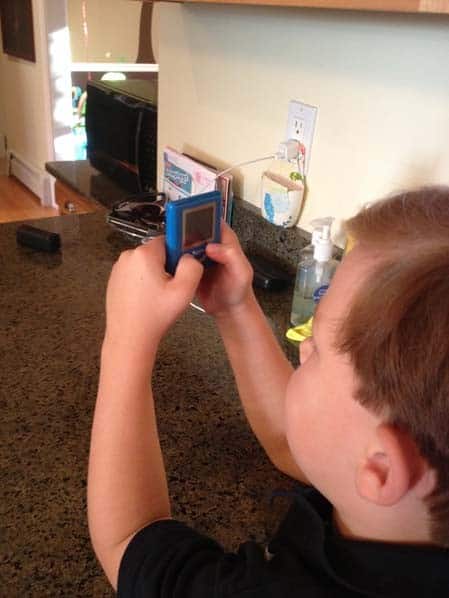 The MeCorder is a really fun and educational product. My kids love it and I love how easy it is to record and upload videos to my computer. The MeCorder Mini Video Recorder retails for $59.99 and can be purchased at the Learning Resources website here. One of our Lucky readers will win their own MeCorder!!!!!
Loading Entry-Form…
… "A sample of this product was provided to facilitate this review. All opinions expressed are my own."
0