Remember a few weeks ago I shared with you a bunch of weird armpit facts?  Well, my friends at Lunchbox apparently embraced my weird facts about armpits knowledge and asked if I'd share more armpit stuff with you… well, specifically, this video link which has letters to armpits and ends with a $2 coupon for Dove Advanced Care Deodorant with NutriumMoisture.
That's right, Dove wants us all to love our pits.  They are kind of important!  Let's hear it for our armpits!!
A-R-M… P-I-T-S!! Armpits, armpits, gooooooooooooo armpits!
Oh. Maybe you don't know why the pits are important.
Or a lot about them. Truth be told, I didn't either.
They keep your gnarly nodes from overheating.  Yea.  Those lymph nodes?  They can overheat.  And your pits house lots 'o lymph nodes. The pits keep 'em cool.  Which is kind of interesting because your pits are usually the warmest part of your body.  I guess that's why we tuck our hands into our pits when we get wicked cold and don't have gloves?!
Got sweat? Your armpits are where your underarm sweat gland is located (I do actually hope you knew this one. I mean, that's what inspires most of us to start using deodorant when puberty strikes…)
Without an armpit ,we'd have no underside to the joint that connects our shoulders to our bodies. How sad would that be?
The armpit is also called the axilla. So next time someone says you have stinky pits, feel free to correct them to say that you have odiferous axillae (in a snobby tone). Chances are, you'll bowl them over with your linguistic prowess and not your um….
well,
stinky pits.
So listen.  Go see what others have to say about their axillae and then print your coupon.  Your pits depend on it. You shave 'em, now take care of them.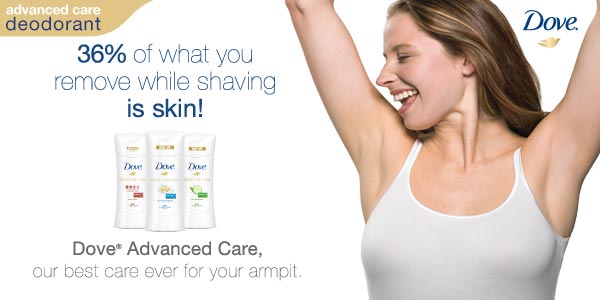 The Best Care Ever for the Armpit
Did you know that 36% of what you remove while shaving is skin? Pretty crazy, right?!
That's why Dove® has created the Advanced Care Deodorant with NutriumMoisture™ technology.
Now you can care for your armpits by using Dove® and raise your arms with pride!  Happy pits!!
So, are you a shaver?  Or a leave-it-as-it-is kind of pit-ster?