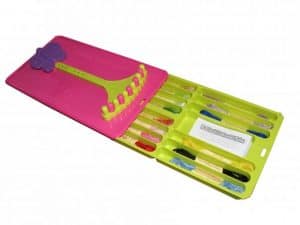 This is one of the most nostalgic reviews I've done on this blog.  No joke.  I can't tell you how many friendship bracelets I made, received, traded, swapped, who knows what else over the years.  Perhaps it was growing up in the 80s, or going to summer camp, but man, those bracelets were awesome.  I had friends who could make 10 strand bracelets- not me, I was far better at the small ones, simple designs, but lots of friends had some mad skills and could do bracelets with amazing designs!  The folks at My Friendship Bracelet Maker sent us one of their makers and oh, what fun I've had showing my 6 year old how to make bracelets!!   Of course, we used to use a clipboard and "wing it" but this does make it easier, especially for littler ones. 
It isn't just about the making of the bracelets that I love.  Its also the meaning of them- as the site says, "according to indigenous American tradition, the person you give a friendship bracelet you made for them must wear it until the threads wear out and fall off naturally. Whether you follow this tradition or create your own, what's important is that you enjoy the craft, have fun and make the choice to share friendship each and every day."
The maker comes with 56 precut threads to make several bracelets, in whatever colors you choose.  The maker itself houses the threads so cleanup and storage is a breeze.  There are spots to hold the threads in place when you aren't holding them which I think makes it a lot easier to learn to make these.  The clip doesn't hold super tight when, say, I am working the threads to do knots but for my 6 year old?  It works great.  Perhaps I have supermommy strength…
Once your kiddo (or you) has mastered the basic skills (or before- there are very helpful instructional videos on there!), be sure to visit My Friendship Bracelet Maker because they have lots of different patterns to make all kinds of bracelets you can download for free.
This is a really cute kit and will make for many hours of fun and offer your little girl or boy some down time and a creative outlet.  I'll be willing to wager a bet that you'll be sporting a friendship bracelet or two yourself- and not minding one bit!
 
Here is my 6 year old learning to make a bracelet (which is still in progress- she's been a busy girl the past few weeks but she's ALMOST done!!)

My Friendship Bracelet Maker will be on QVC today, August 25 at 11am and 5pm EST!!
You can find these in many stores across the US and even a few places internationally, as well as online (Amazon was one site I found it). 
Or, you can win one right here!!  



I received a sample of this product to facilitate my review.  Opinions expressed within are my own.
0