This post about the new U By Kotex products available at Walmart is brought to you by our friends at Lunchbox.  I have written several times about the U By Kotex line (check the posts out). I'd much rather carry around something like U By Kotex than what my mom used (and therefore, I had to use for years) I hated having to bring the necessary supplies needed to school or out with me when I had my period.  NOT fun.  You know, because having to deal with your period is so much fun already.
U By Kotex offers seriously great protection for any occasion. Period. Pun absolutely intended. Now, exclusively at Walmart, are 2 new styles of U By Kotex.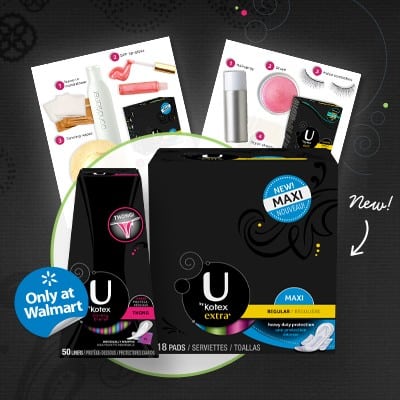 U by Kotex® Extra MAXI Pads

Fast absorbency for a dry, clean feel
Channels for reliable protection
Tru-fit® wings help keep this baby in place
Bold, edgy aesthetics on Pad
Heavy Duty Protection
Folded and wrapped – easy open wrapper in fun, bold colors
More absorbent that our U by Kotex® CleanWear Pads
Soft covers keeps you clean and fresh or Soft film cover for a clean and fresh feeling

U by Kotex® Thong Liners (exclusive to Walmart)
Specifically designed for thong style underwear

Individually folded and wrapped for on-the-go convenience

So comfortable you'll barely know it's there

Totally thin

Totally fresh

Barely there
The secret to a successful adventure is feeling great. And feeling good starts with making sure you're ready for anything—from pimples, to sun burn, to a period that shows up unfashionably early.
Visit Walmart.com and to check out the U By Kotex® Survival Kits! From Girls Night Out to Bridesmaid Duty, these survival kits will help to stop any beauty mishaps that may come your way!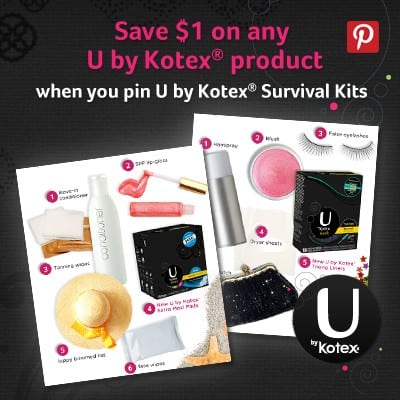 **Coming soon***When you pin your favorite survival kit to Pinterest, you will immediately receive a $1 coupon for U by Kotex® products! I'll pin for 2 reasons.  #1, I'm almost never prepared. I mean, I try to be. But I always find (too late) that my tampons or pads are in the van, and I'm in a store, or I changed bags and my supplies are in the bag I changed from, or I have hubby's truck and not my van). So maybe a cute survival kit will keep me prepared, because I'll want to make sure I have it on me at all times!? #2 I hate spending money on feminine products.  A lot.  It annoys me that I am dealing with my period and then I have to buy all the things that go along with it. 29 years and counting I've dealt with this annoyance and it's not lessened at all.
SO.  Here's my question: What's in YOUR ultimate period survival kit? Which U By Kotex Kit is your fave?
I believe that all period survival and emergency kits should include chocolate.