This is a sponsored post written by me on behalf of Sudafed.
It's that time again – cold and flu season has once again creeped up on us. I'm not sure how it does it, but every year it's like clockwork when we start sniffling and sneezing! This year, I'm ahead of it though. My secret weapon? The OPEN UP™ Facebook app! Sudafed is a brand we've known and trusted for years, so when I found out about their online app, I had to check it out!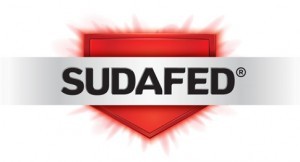 OPEN UP™ is just what it sounds like – it's all about opening up to other sinus pain sufferers. Talking to others that have dealt with sinus pressure, congestion, and other similar symptoms helped me realize that I'm not alone! I also grabbed a Sudafed coupon while I was testing out the app. When you're suffering from sinus pressure, you don't have to Google it to figure out what's wrong: your head feels like it's an orange juice being squeezed into a big glass of juice. The sniffles, the sneezes, the stuff that comes along with a cold… well, that's nothing compared to your head feeling like it's being crushed like a walnut, right? This infographic below talks about the sinus pain and pressure that so many of us experience during this time of year. The best part? 72% of women say their significant others are bigger babies when sick with a cold. Even better? 61% of men agree that they're actually bigger babies! Finally, some science behind what us women have always known.

Sudafed knows that suffering from sinus pressure and pain can leave individuals feeling crushed, beat down, congested and even squeezed, desperately looking for a way to OPEN UP™. Serious sinus sufferers are invited to creatively share how their sinus pain and pressure looks and feels to them by using Sudafed's OPEN UP™ application on Facebook.
Step 1: Like Sudafed and visit the OPEN UP tab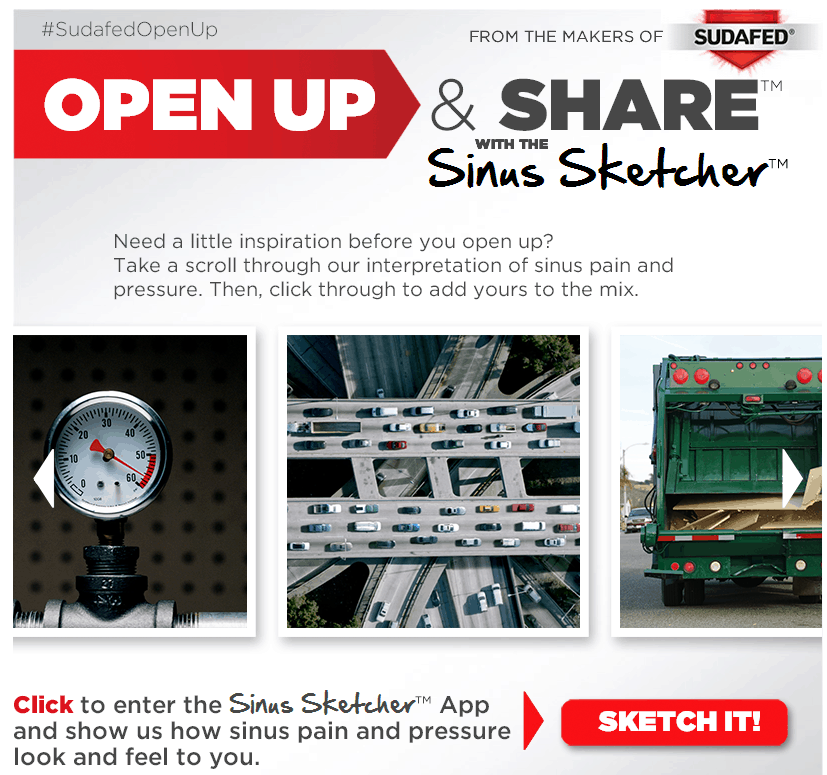 Step 2: Add one of your Facebook photos so you can illustrate like I did what your sinus pain feels like 
Step 3: Submit, share, and grab your money saving coupons!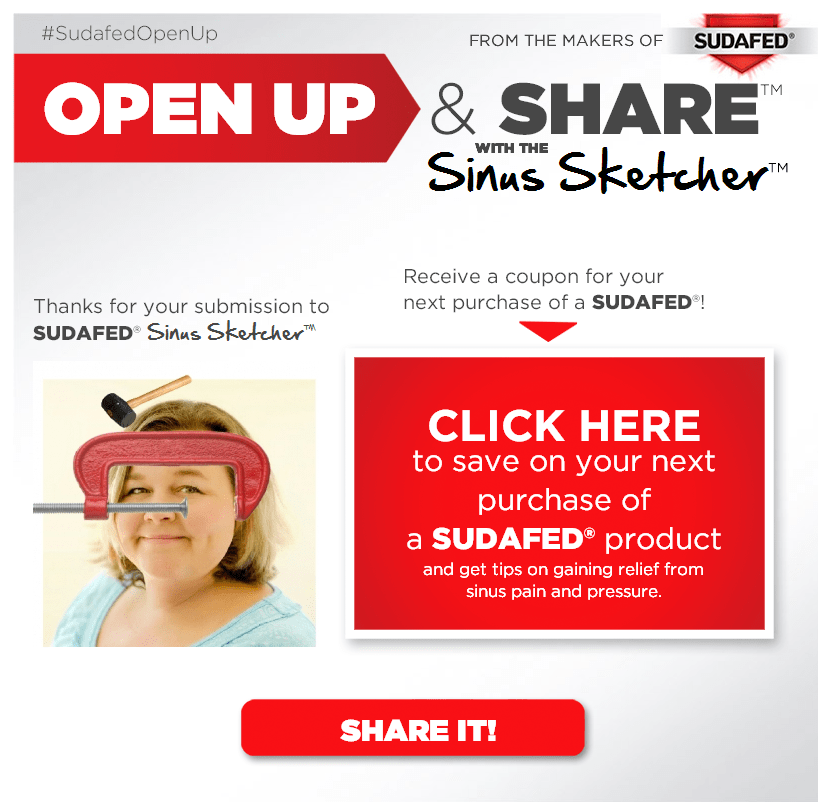 Then, beginning on December 2, the Sudafed Facebook community will vote for one of five finalist sketches that best illustrates the pains of sinus pressure. The winner will receive $5,000 and a chance to have their work included in a Sudafed advertising campaign. For more information, visit the Sudafed Facebook page.
This is a sponsored post written by me on behalf of Sudafed.