I remember when I was little and my brother Brian started doubting Santa was real. I don't know if you are aware of this but my mom was Christmas crazy and she took all things related to the holiday very seriously. That year, Santa had some sleigh issues up on our roof (of a 4 story Victorian house) and had to take a break to assess the situation. He even had a pipe on the roof. The proof of Santa was needed.  It was shown.
Now, I have an almost 9 1/2 year old and I can tell she's starting to question things. I want a few more years of the innocence still, and yes, I will do what I can to keep it going. We have elves, and are having lots of fun with that this year, but I think we need a little bit of extra help.
That's where the Santa Spy Cam app comes in. Santa Spy Cam an actual APP (and it's a free download)  that allows parents to show their own kids proof of Elf and Santa visits in THIER home.  Grab it in iTunes and/or Google Play! 
It is indeed a FREE download, with a free "demo" to test drive the app. Then there's a $3.99 charge to "unlock" all 37 scenes. Which works out to be less than $14 cents per scene, including the 6 Santa visits. In other words, Christmas magic for less than the price of a peppermint mocha latte 🙂
The folks at Santa Spy Cam have hired me to host a Twitter Party to spread the word about this super fun app. Opinions are my own.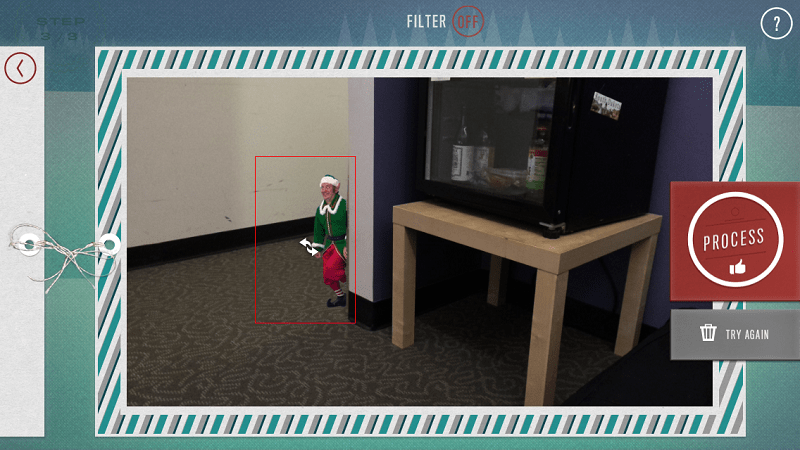 Want to know more? I did. Come join us on Tuesday, December 9 from 9-10 pm EST for a #proofofsanta Twitter party!  We'll be chatting about the  "Ultimate "Proof of Santa" video app, Santa Spy Cam 2. The designers of the app will share how it works so we parents can get some proof!
Check out the adorable video the Santa Spy Cam folks make of my Twitter page. I love love love it. Elves on Twitter Avatars
 #proofofsanta #TwitterParty
**You MUST RSVP and be participating in the party to be eligible to win!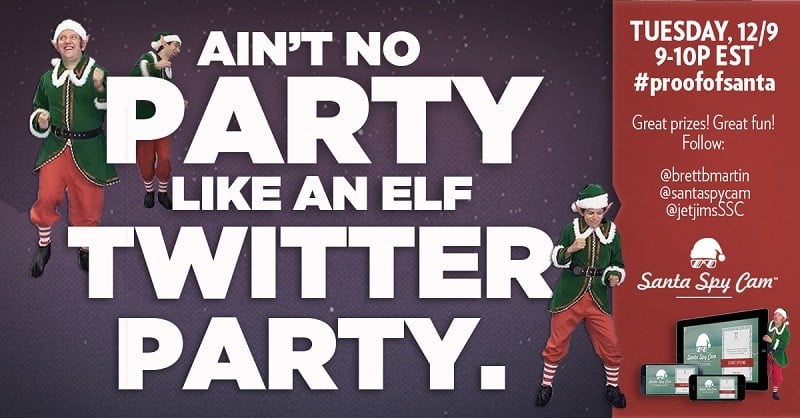 Party Host/Moderator: @brettmartin, @santaspycam, @jetjimsSSC, @TheBravoBlonde, @teambond
Party Timing:
December 9th, 2014 9-10p EST
Hashtag:
Brand Twitter handle:
@santaspycam
Follow Santa Spy Cam on Facebook for fun ideas and tips!
Here's a BIG hint to you: Download the app and play around with it before the party.  It might pay off… wink, wink.
 Grab it in iTunes and/or Google Play! 
Prizes:
Four (4) $25 gift cards to either iTunes or Google Play (depending on winner's chosen platform)
Grand prize given at the end of the party
ONE (1) $100 gift card to either iTunes or Google Play (depending on winner's chosen platform)
#Parents! #teachers! Come join us for #proofofsanta #twitterparty 12/9 9-10pm est. RSVP: http://t.co/VogEk4zxsF #ad pic.twitter.com/hRz6b9pWRi

— Brett Martin (@brettbmartin) December 7, 2014
RSVP to be eligible to win!