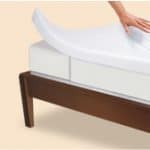 My husband and I have had more restful nights sleep in the past several weeks than we have had in years. Part of this *may* be due to all three of our children finally starting to sleep through the night, but mostly, I attribute this wonderful new sleep pattern to the folks at Sleep Innovations and their 4″ Memory Foam Mattress Topper.
I'm in love. It's a beautiful thing, this mattress topper. At first my husband came home and very confused, asked me why the bed looked taller. That was it. I didn't say anything, because I wanted to see if he noticed a difference. So after a few days, I asked him if he'd noticed. He said "Yea, the bed's taller. You don't snore as much, what gives?" So I told him about Sleep Innovations and their wonderful memory foam products that offer support that our mattress can't plus a feeling of luxury (oh, its heavenly) without having to replace our entire mattress. He mentioned the bed felt quieter in general- like if I turned over, he didn't hear me moving around or anything (Yes, friends, I move around in my sleep. And apparently, I snore. Aren't I just a hot hot mess? Yet he stays…love is so blind…).
A word of caution- you are probably going to have to buy some new sheets if you get one of these. Its worth it. But with the extra
inches from the topper and a bit more from the cover for it, unless you already own deep sheet sets, you'll likely need some new ones.  Thankfully we had some in the house already…and I'd ordered some luxury bamboo ones from a daily deal site so I've seriously felt like I'm sleeping in some luxurious spa or something (until a kid wakes up…).    The comfort level you experience is oh so very worth it.  Not just from me saying it- the memory foam actually offers support so your body is resting more comfortably- (look —>) which can make for a more restful sleep.
With today's crazy schedules that we all live with, getting restful sleep is important.  We need to maximize our sleep time, friends.  Its a precious commodity that's becoming more and more rare.
Not only does Sleep Innovations make mattress toppers (well, they make mattresses too, of course) but they make pillows too.  I'm a side sleeper and was delighted that they also sent me one of their Memory Foam Contour Pillows (Recommended for Back and Side sleepers).
Our memory foam contour pillow's therapeutic design supports the head and neck for optimal spinal alignment.  A contour pillow allows you to sleep with less pressure which reduces tossing and turning during the night.  Choose to sleep with either the high or low loft under your neck for optimal comfort and support.  Our memory foam promotes air flow which reduces heat build-up and provides a temperature-neutral sleep surface.  Wake up pain-free and refreshed.
This pillow rocks.  I don't know what else to say.  Its kind of a weird pillow to see on the bed, but it doesn't matter.  I claimed this from the second it came out of the box.  This is not shared.  Its mine, people. ALL mine.  I love it.  No kinks in my neck.
Between this and the mattress topper, its almost like I'm getting a full 8 hours of restful, uninterrupted sleep (hahaha) for the first time in gosh, almost a decade?  Its GLORIOUS and LUXURIOUS and…ready?  won't break the bank.  You can even find sales and coupons to bring the cost down too, if you look around a bit!
This campaign is being cross promoted through Shout! Media.
Check out these other great reviews to hear their thoughts about Sleep Innovations!
But- want to know my FAVORITE part of the Sleep Innovations Memory Foam Topper and Pillow?  One of YOU will be winning one of each of these in the size of your choice!! Shout! Media is giving away a topper and pillow to one lucky reader!


I received a sample of this product to facilitate my review through my partnership with Shout! Media.  Opinions are my own.