My kids LOVE to help make things for holiday gatherings.  This mini turkey trifle is great for kids to make and decorate- and then enjoy later as a healthy snack!  Great for Thanksgiving Day pre-dinner snacks!
Mini Turkey Trifle
Ingredients
1 each – red, yellow and green pepper
ranch or veggie dip for dipping your peppers
brown paper bag
scissors
orange, red and black marker (I used the kid's Crayola markers)
Scotch tape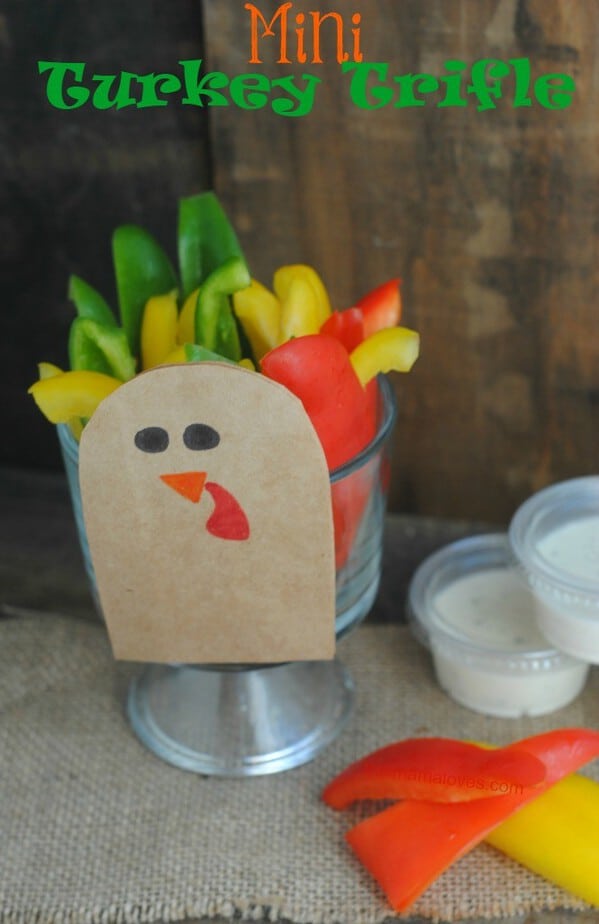 Directions –
#1. First, make your turkey. I free cut the shape pictured out of the brown paper bag and then drew on the eyes, nose and turkey gizzard.
#2. I then used some tape to adhere it to the mini trifle dish. Easy.
#3. Slice the top off off each pepper and then remove the seeds. Cut them each into slices and arrange in the trifle dish to look like turkey feathers.
#4. Serve with ranch of veggie dip.
*Makes 1 serving but you will probably have enough veggies to make 2 mini trifles if you wish.