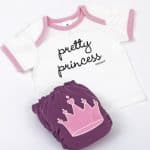 Here at This Mama Loves Her Bargains, we just love a cute cloth diaper! Between both of us Mamas we have tried A LOT of diapers, and I think that we can both agree that cuteness is a must. Back when I first started cloth diapering 3 years ago it was mostly about functionality. There weren't a lot of "cute" diapers out there. There has a been a growing trend in cloth diapering that allows you to diaper your baby in style. I love a diaper with an applique or design that I can match with a cute onesie or t shirt.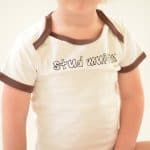 So, when I had the chance to try out the Perfect Bum Reusable Cloth Diaper and T-Shirt Set I was game! The Perfect Bum set comes with a cute diaper cover with a tri-fold insert and an adorable matching t shirt. They have a lot of cute designs to choose from, and offer 3 sizes to fit your baby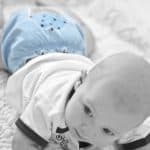 . Check out this information from the manufacturer: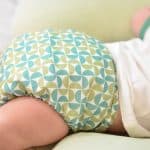 ---
The Hightlights
Patented "anchored-pocket" is made of water-proof material that helps keeps the mess inside and not on the baby or even the outer shell of diaper. Since this pocket keeps the mess on the inserts, mom doesn't have to wash the outer shell diaper as much, just the inserts.
The outer shell of diaper comes in many different attractive styes all being easy to clean and dry.
The two different optins for inserts are provided to fulfill different needs. The dispoable inserts may be easier for traveling and the reusable inserts, easier to use at home or long stays with the family.
Gathered edges & back provide a better fit and protection from leaks for a more comfortable baby and less mess for the parent.
The broad velcro panel allow the diaper to grow with the baby. The diaper also come in three different sizes, accommodating babies sizes 5-30lbs.
The Details
Outside Layer: 100% polyester knit makes washing easy
Patented "anchored-pocket" made of waterproof material that helps keep the mess inside Gathered edges allow a snug, but comfortable fit for baby's thighs Special closure design straps are stretchy to allow comfortable fit
Elastic back: to provide comfortable, gathered edge for better fit & protection from leaks
Broad velcro frontpanel allows flexibility for closure 3/8″ binding to hold down washable inserts on both sides of liner Broad velcro frontpanel allows flexibility for closure
Washable Insert
Micro terry back pad is made to repel liquids so if baby is changed a lot, diaper will not get wet
Raised ridges on both sides of front pad help contain the mess. 100% cotton front pad is made to absorb and hold baby's mess.
Disposable Insert 100% cotton Easy to use for travel
My Thoughts: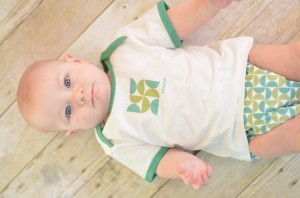 I tried out the size large diaper and t shirt set for my 6 month old in both the Pinwheel and Stud Muffin Designs. He is just under the 20 pound weight limit for a size large and it is slightly large, but fits him fine and allows him some room to grow. In fact, the sizing was great because I could also fit the diaper set on my 2 1/2 year old who is currently potty training. I love a good cloth diaper for potty training. It allows them to feel the wetness and I find that it makes potty training a snap. The Cocalo diaper comes with a nice insert that I thought had good absorbancy, even without washing several times like other inserts. I like that this insert just lies inside the diaper, no stuffing necessary! I found that the diaper system worked well, and kept my baby dry for about 2 hours (the standard for cloth diapers). The velcro tabs at the waist of the diaper are very secure and make adjustments easy. We have had no stink issues with these diapers so far and they wash up nicely with my other cloth diapers. No staining is evident either! I really love the Perfect Bum cloth diaper and t shirt set and am excited that they will be available at Babies R' Us. This will definitely be my "go to" outfit for my baby this summer.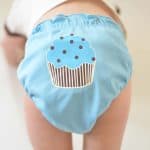 You can purchase Perfect Bum Cocalo products online atBabies R' Us. These products will also be available in stores at the end of February! Retail Price: $29.99. One of our readers will win their own Perfect Bum Set!!! // <![CDATA[ // < ![CDATA[ /*{literal} a Rafflecopter giveaway <a href="http://rafl.es/enable-js">You need javascript enabled to see this giveaway</a>."A sample of this product was provided to facilitate my review. All opinions expressed are my own."
1