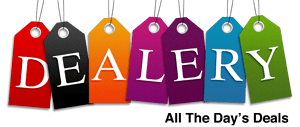 I love daily deal sites. Love them. They've helped us to save some money on things we'd not normally save on, or be able to splurge on a few things that we'd never normally do.  The thing is, there are a LOT of daily deal sites, and it can get really overwhelming.  How many emails do we need in our inbox each day, anyway?!  Dealery has the solution- they show you all of the daily deals from all of the sites in one place!  It's awesome!  You get an email in the morning with all of the daily deals for your area.  Easy, peasy, lemon squeezy.
Of course, this also means you'll be seeing more deals to take advantage of, which leads me to an issue *I* have and would like help with.  How do you keep track of daily deals you have purchased, and not miss the expiration?  I may have done that three or four times now, and I'm really annoyed with myself.  I need alerts!! Reminders!
You can find the Dealery on Facebook, and they have a separate facebook page for each area so you can easily find deals in your area by liking the facebook page associated with your area.
The Dealery offers a way for you to find local deals on things like Vacations, local activities, and more!
When you sign up for the Dealery you can win prizes like Amazon gift cards just for sharing with your friends with your referral link.
Thanks to Dealery, one of my readers will win a $300 Amex Gift Card!!  Think how many daily deals you could take advantage of with $300!
Javascript must be enabled to enter this giveaway. Learn how to activate Javascript by
clicking here.

Loading Entry-Form
This post is brought to you by our friends at Dealery.com. Opinions are my own.
0