Thanksgiving is 2 weeks away.  The holidays are HERE, my friends.  Someone is likely to ask what your secret wish for the holidays  is- and my question is, are you honest?  Or do you say one thing but mean another?!  I'm sure most of us have a secret wish at holiday time.  Sometimes things you say are different than the things you're actually thinking. You may say you want to look great in your holiday dress but what you really want is to impress your in-laws that you haven't seen since last Christmas.
Or like me, maybe you really just want for the holidays to feel like they did when you were a kid.  That magic, the togetherness, the memory making.
Or to make it through a holiday event that involves a lot of stress without showing that stress in your voice or body language.
This post is brought to you by our friends at Lunchbox. Opinions are my own.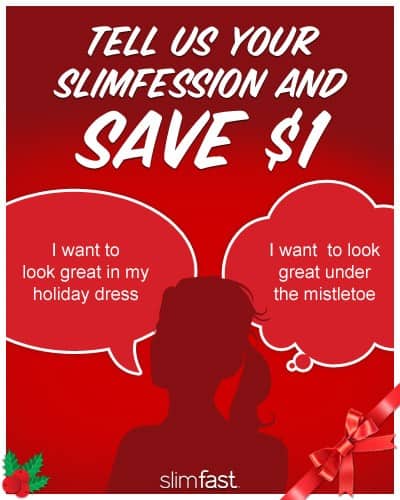 Let Slimfast know what you really want on Walmart.com, and print a $1 coupon for any Slim-Fast® product!
Shop all Slim-Fast® products at Walmart today for the best value!
Tell Walmart (or me) your #Slimfessions and enter to win one of 2 $25 Walmart Gift Cards!