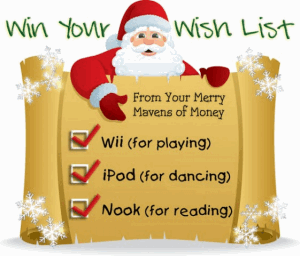 The Mavens WIN Your Wish Giveaway was a huge success! We hope everyone enjoyed getting the chance to win 3 fabulous prizes!
And the winners are…
Wii – #661 dlmurray
Ipod – #1375 missjenno
Nook – #1224 kcarlson
An email will be sent to the winners. You will have 48 hours to reply or a new winner will be selected.
Wishing everyone a Happy Holiday Season from the Merry Mavens of Money!