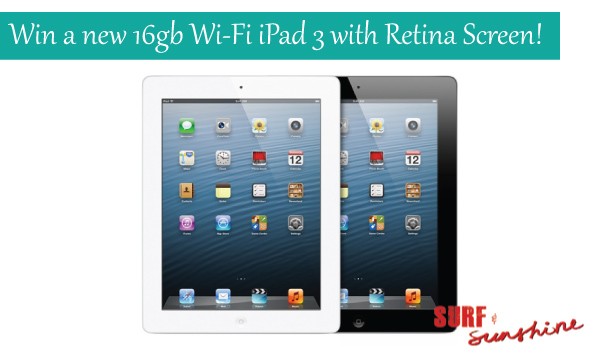 My husband jokes that my iPad is attached to my hip.  I correct him frequently- it's attached to my hands.  I couldn't see it well if it was on my hip.  Seriously!  I do love having it though.  I love love love playing word games, catching up with Facebook friends, checking emails, doing some blog work, and playing games with my kids.  There are seemingly endless ways to use iPads, and I feel like I hear of new things iPads are capable of weekly.
It isn't just for me for personal use — for those times we have family or friends in the away from us, or in the hospital, iPads can be used for  Face Time to keep in touch.  We can watch videos and play games- or loved ones can play them – to pass the time while  waiting or staying someplace.
All these reasons, plus, iPads are just plain fun.  So I joined in to give one away.  Lucky one of you!
Loading Entry-Form…
…
This giveaway made possible by Verizon FiOS thru Surf and Sunshine.