A few weeks ago I showed you the very embarrassing photos of our "office area" of our bedroom.  The disorganized office, I guess we should have called it.  Since Fellowes had asked that I share with you just what DID need to be organized, as part of this program, I did it.  I'm kind of glad I did.  I'm kind of famous for starting projects strong and then….well….my excitement peters out.  Today, I get to show you some AFTER photos…thanks to some sturdy triple wall construction and double wall construction Bankers Boxes from Fellowes.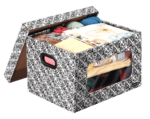 Why do I LIKE these Bankers Boxes? First, the assembly is really simple.  My 3 and 5 year old loved helping me to assemble- and were easily able to help me.  I was kind of curious to see if something so simple to assemble would really stand up but my son has (literally) tested this and yes, they do stand up.  At least to 43 lbs of wiggly boy child on top of them.   But you can also unfold them so they will store flat when you aren't using them.
Each Bankers Box has a nice large window so that you can see at a glance what's inside.  The handles are reinforced on both sides, so you don't have to worry about them ripping when you lift something heavy.  These boxes come in several times,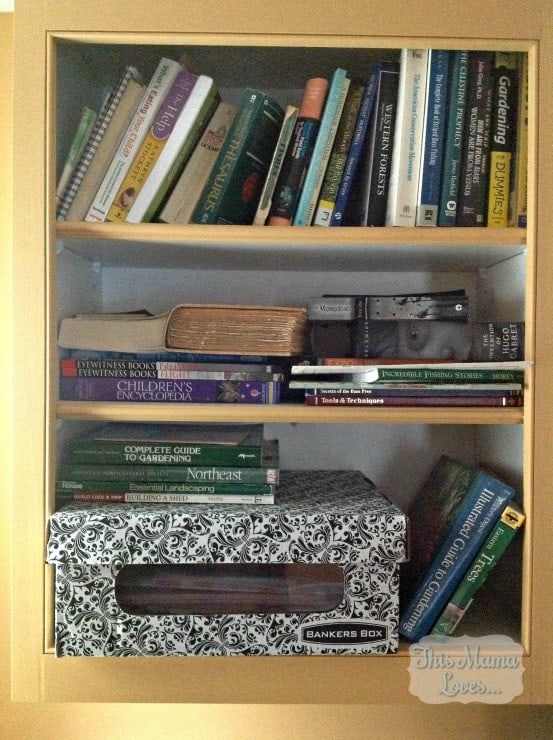 I can't bear to box my books up.  The gardening ones get used daily, particularly right now.  But check out the rest of my "mess"– and how nice it looks!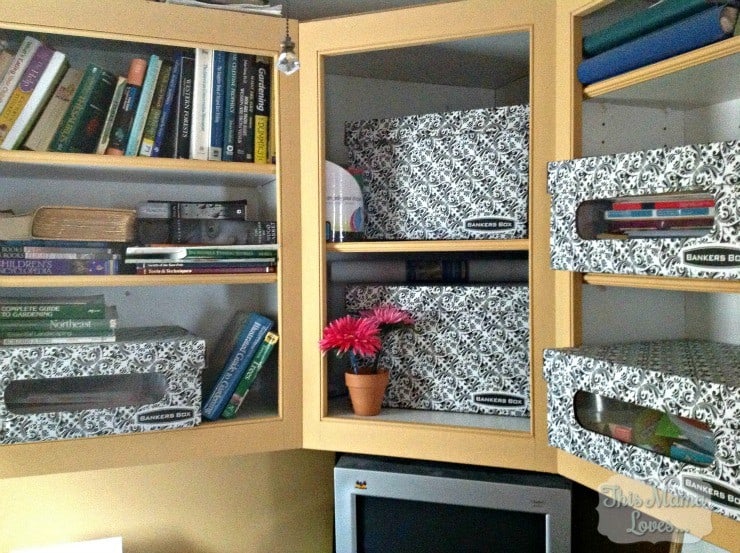 MUCH better, right?  I had some boxes left over, one has my tax papers in it, thanks to my blog friend Liz who used these boxes for just that purpose…I have also put our "warm" bedsheets into another of these boxes tucked into the back of the linen closet- Neat, organized, and out of the way.  The kids each have an underbed storage box for their school papers- which they love, although I may have to rethink the location for them.  They keep going under my bed to look at their boxes…every single day.
I also boxed up my mom's papers and photo albums.  I'm just not ready to go through them all yet- it was nice to be able to put them into a pretty box so I know they are safe, but they are also put away, where I don't have to see them each day.
This was one organizational project I started- and FINISHED!  Now if I could motivate to be this organized in the REST of my house….
These Bankers Boxes are a really affordable, stylish organization solution for the home.  I am hoping that there are some more colors and patterns yet to come.  Check out the Fellowes Bankers Box 'Messiest Closet' Contest where you readers can enter to win a  consultation with a professional organizer from the National Association of Professional Organizers and receive up to $500 in free Bankers Box Stackable Storage products ! Five second place winners will also win $500 worth of product.  Sounds like a totally marvelous promotion to me- although I'd be a little afraid of what an organizer might say about our house!
I participated in a campaign on behalf of Mom Central Consulting for Fellowes Bankers Boxes. I received product samples and a promotional item as a thank you for participating.
0