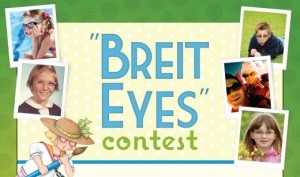 Airwear lenses, Essilor's lighter, safer and greener brand of polycarbonate lenses,declared Sept. 5-11, 2011,"Four Eyes Pride Week," to encourage consumers to wear their glasses with pride! To kick off the celebration, Essilor and Airwear  partnered with iconic artist and healthy vision advocate Mary Engelbreit asked fans to change their Facebook profile picture during the week to one of themselves wearing glasses. 
During "Four Eyes Pride Week" and throughout the entire month of September, Airwear and Mary Engelbreit are also asking parents to visit Airwear Lenses to enter the "Breit Eyes" contest. By submitting a photo of their child being "lighter, safer or greener" while wearing glasses, parents have a chance to win one-of-a-kind prizes from Mary Engelbreit. One lucky grand prize winner will receive an original sketch by Engelbreit in the likeness of the child in the winning photo, plus a trip to tour Engelbreit's St. Louis studio. One runner up will receive a collection of children's books authored and signed by Engelbreit.
If you or your child wears glasses, as I do, and my husband does, and I'm going to just guess that at least 2/3 of my children will, then you understand the  importance of lighter, safer and greener eyewear for both adults and children.  The Breit Eyes contest was designed to encourage folks to show OFF their eyewear (I love having fun and funky glasses, I'm about ready for some new ones!!) and to get people to think about the importance of safe eyewear.
Airwear lenses are thinner, lighter and more impact-resistant than standard plastic lenses while providing 100 percent UV protection. Airwear lenses are also made using environmentally conscious practices in packaging, water consumption and manufacturing waste re-use. To learn more about Airwear's commitment to producing lighter, safer and greener eyewear for adults and children, visit LighterSaferGreener.com.  
In honor of this, and to help spread the word about the Breit Eyes contest, one of my readers will win an autographed Mary Englebreit 2010 Wall Calendar!!



 
I will receive a 2012 wall calendar in exchange for this post.  Opinions are my own.
0