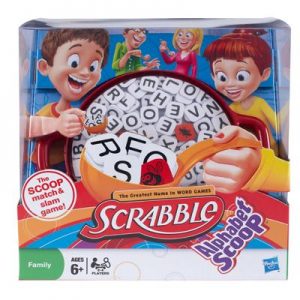 Alphabet Scoop is a new game from Hasbro in the Scrabble family (my favorite games are word games- I LOVE Scrabble!!) The box says this is for ages 6+ and while that is probably true, my 6 year old has taught my days-away-from-4 year old to play, which makes it a lot of fun for everyone.  This is a great addition to your Family Game Night collection! There are 5 words to complete on each card- so if littler kids are playing with adults, we adults find the 5 letter words, the kids find the shorter words. Be careful not to scoop a fly in your soup or ALL of your tiles go back into the soup bowl!   Be warned, too, that once you DO get a fly, it seems like you will get them more and more frequently.  Or I do.  We've been playing this game a lot while my youngest finishes her naps the past week or so.
Scoop, match, slam and score! Stir up your pot of letters and then take a card. Choose a word and start scooping tiles. If you're the first to match your letters, slam on the pot's lid to score. Mix up a fantastic batch of ALPHABET SCOOP fun!

Includes plastic pot and lid, 4 plastic scoops, 72 word cards, 104 letter tiles and rules.

For 2 to 4 players.  Ages 6 and up.
I really like this game- I love that you can adapt it to be harder or easier for skill levels, and that mixed skill levels can play together.  I do also  really like that you can fit all of the parts of the game inside the bowl, although I wish there was a way to secure the lid so that there wasn't a risk that it might open accidentally and spill the letter tiles out.  I think its great that the game doesn't take a real long time to play- so even without a long attention span, kids will stay "with" the game.  Two thumbs up to the folks at Hasbro for another great game!
One of my readers will win Scrabble's Alphabet Scoop!


I received a sample of this product to facilitate my review.  Opinions expressed within are my own.
0