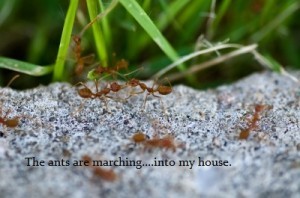 Yay, it's JUNE! School's almost out, the weather's nicer, long days of sunshine and outside fun are ahead.  Of course, with all this comes some extra friends who too frequently like to visit…ants.  I don't know anyone who doesn't deal with ants at least a few times each summer season…and I don't know anyone who's ever happy about it!   AMDRO® Ant Block® Home Perimeter Ant Bait can help consumers to effectively treat the outside of their home to prevent extra household guests (ants).   I don't know about you, but the only ants I welcome into my home were stars in an animated film years ago.

AMDRO® Ant Block® Home Perimeter Ant Bait kills a wide range of ant species around the perimeter of the home so they do not come inside.
The bait allows foraging (worker) ants to bring the granules back to their mound before taking effect, resulting in the entire colony, including the queen, being destroyed.
AMDRO® Ant Block® Home Perimeter Ant Bait is highly attractive to 15 different ant species, killing 50 percent more species of ants than Spectracide® Ant Shield® Home Barrier Granules.*
*Compared to EPA labels published as of May 9, 2012.
AMDRO® Ant Block® Home Perimeter Ant Bait offers an easy and effective way to kill carpenter ants, Texas Leafcutting ants, Argentine Ants and other listed ant species.
Following application, AMDRO® Ant Block® Home Perimeter Ant Bait works within two to four weeks, killing the queen and the ants in the colony.
Building on the expertise of AMDRO® in ant killing and control, consumers nationwide can now experience fast-acting and highly effective control through the brand's complete line of solution-oriented products designed for a diverse range of insect-specific issues, application needs and plant types.
Facebook: https://www.facebook.com/AMDROpestcontrol
Twitter: https://twitter.com/#!/AMDROassistance

To learn more about AMDRO, visit their website: www.AMDRO.com
 AMDRO would like to send one of my readers a $50 Amex Gift Card towards the purchase of some AMDRO Ant Bait! 
Javascript must be enabled to enter this giveaway. Learn how to activate Javascript by
clicking here.

Loading Entry-Form

Central Garden & Pet partnered with bloggers such as me to help educate us all about their AMDRO® products. As part of this program, I received compensation. They did not tell me what to purchase or what to say about the use of the products. Central Garden & Pet believes that consumers and bloggers are free to form their own opinions and share them in their own words. Central Garden & Pet's policies align with WOMMA Ethics Code, FTC guidelines and social media engagement recommendations. A winner will be chosen by random and gift card fulfillment will be handled by a third party.