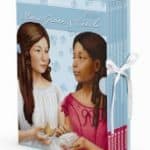 In August, American Girl introduced us to Cecile and Marie-Grace, two friends that I fell in love with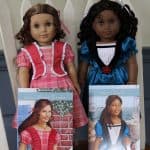 instantly, and have been enjoying reading about with my oldest ever since.  The girls are from New Orleans circa 1853 and while they are from different walks of life, the stories of their friendship bond them together.  We are taking our time going through these books about Cecile and Marie-Grace, because my daughter is on the younger side  for these books and she's asking a lot of questions about the historical parts of the stories, which are woven throughout each.  The books are very well written and give a vivid picture of what life must have been like for the girls and their families.  
Cécile & Marie-Grace Boxed Set : This keepsake boxed set includes all six illustrated books about historical characters Cécile and Marie-Grace, friends who are growing up in 1850s New Orleans. The box opens up to reveal a fun-filled board game—"Cécile's and Marie-Grace's Favorite Things"—where girls collect cards and earn points. The board game and playing pieces tuck into a storage pouch that folds-up with an elegant ribbon closure. The girls' stories, which are woven together in one six-book set and written by two different authors, include Meet Marie-Grace, Meet Cécile, Marie-Grace and the Orphans, Troubles for Cécile, Marie-Grace Makes a Difference, and Cécile's Gift. Authors: Sarah Masters Buckey and Denise Lewis Patrick. Paperback. Ages 8+
One of my readers will win the Cécile & Marie-Grace Boxed Set
I received a sample of this product in exchange for my post. Opinions are my own.
0