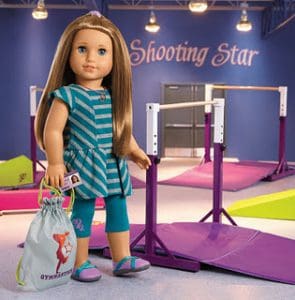 Come January 1, 2012, American Girl fans everywhere will be able to meet McKennaTM Brooks, at 10 year old gymnast who struggles with a balance between- well, the balance beam, and her schoolwork.  The Girl of the Year® McKenna doll, books and accessories will only be available until the end of 2012.  This is very smart timing for American Girl, given that 2012 is a Summer Olympics year and that should generate even more interest in yet another gorgeous doll friend from AG.
McKenna, aged 10, finds herself falling behind with her reading comprehension and discovering more talents and strengths in herself that she didn't know she had.   She gets hurt and ends up in a cast- and has to work even harder, and learns some great life lessons along the way.
McKenna was introduced to us a few weeks ago, when a surprise package showed up with a copy of McKenna and Take the Challenge: Crazy Challenges and Silly Thrills to Explore Your Talents and Everyday Skills.
My daughter tore through McKenna (penned by Mary Casanova) in one sitting (she seems to have my love of reading) and has asked me at least 2 dozen times when I'll find a copy of McKenna, Ready to Fly! for her to read.  The Take the Challenge book has been a lot of fun- for both of us- and I'm still (and likely always will be) the reining champ of doing things with my feet and toes in my house.  We haven't gone through the entire book of challenges but I love the huge range of challenges, from the super silly to more serious, and, most importantly, the kids will too!!
To our delight, McKenna herself arrived at our house on Friday afternoon, and with some quick juggling, we decided that this would be a wonderful surprise for our oldest for Christmas.  We actually sent her home with my niece for the big S to leave under my sister's tree, to be found with a few things for her siblings Christmas night.  My Busy girl knows that McKenna isn't "here" yet and was beyond excited that she got to meet her before anyone else. McKenna is beautifully constructed, just like all of the American Girl products.  These dolls are not inexpensive by any means, but they are very well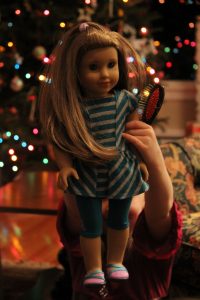 constructed and built with care and quality in both materials and craftsmanship.  I wish I had a photo, my niece E has three AG dolls from when she was younger (she's 18 now) and got them all out to play with my girls, who had a Just Like Me Doll and a Bitty Twin with them at my sisters.   They are all made so well!!
I have to say that while I enjoy McKenna's story, and her fun color scheme collection, I think my favorite feature is her hair.  She's got some gorgeous hair coloring, and amazing highlights.  Plus, her hair is like cornsilk.  I don't know what it is about her hair, but I am in awe.  I love it.  Love it so much I'd bring her to my stylist to ask for it replicated on me!!
McKenna's Take the Challenge isn't just in the book. Girls can also participate in the challenge at www.americangirl.com/girloftheyear.  When they complete the quiz, girls discover their top three strengths from 8 categories.  After completing 10 offline challenges that go along with the categories, girls receive a trophy.  For each trophy earned, American Girl will donate 25 cents to Save the Children's US Literacy Program (up to $50,000).
There will be a movie based on McKenna's stories premiering on DVD from Universal Studios Home Entertainment in 2012, as well.  I can't wait to watch it!! (I haven't any time frame on that, just that it will premiere and has been at least partially cast).
One of my readers will win a paperback copy of McKenna!
I received a sample of this product to facilitate my review.  Opinions are my own.
0