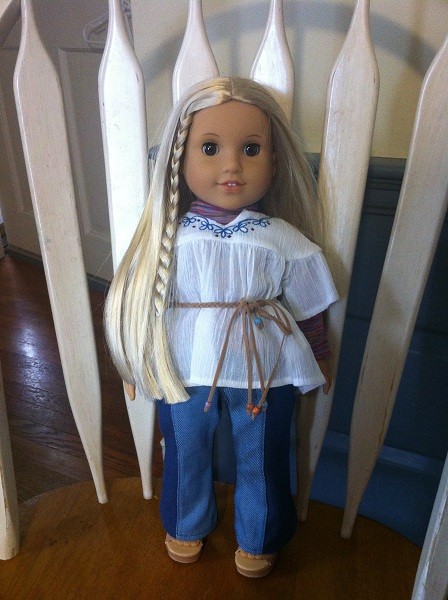 Julie  
In the 1970s, girls experienced all kinds of changes, and Julie's story highlights many of them. She's facing several challenges all at once—she's moving away from her best friend, Ivy, starting over in a new home, and dealing with new issues at school. But with creativity and optimism, Julie learns to make a few changes of her own.
My girls love Julie for her oh so very long hair.  They both have straight blonde hair and both want their hair all the way down their back.  I think my oldest just loves Julie because they are both very creative.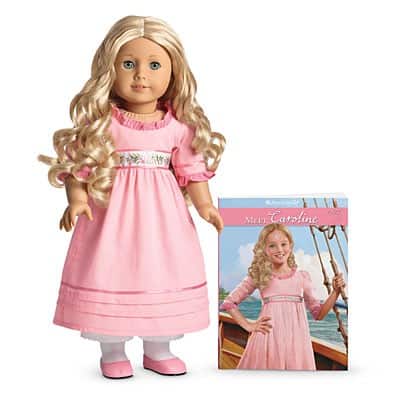 Caroline Abbott ($105) opens up a whole world of imaginative play, and comes with authentic styles from 1812:
A soft pink empire-waist dress with a woven floral sash and ruffle trim, details common in her era
Lacy pantalettes and ribbed-knit stockings to keep her proper
Pink shoes to match
Bring Caroline's exciting stories to life! The Caroline doll is 18″ tall, with light aquamarine eyes that open and close. She has waist-length, golden-blond hair that can be braided and styled, and she arrives in an empire-waist dress authentic to her era. Caroline is soft and huggable, and she's poseable for hundreds of playtime moments to come.

The Caroline doll has a huggable cloth body, and her movable head and limbs are made of smooth vinyl. Her golden-blond hair tumbles in curls, all the way down to her waist! Includes the Meet Caroline paperback book, the first story of this brave, adventurous girl.
Bitty Twin Outfits 
Autumn Plaid Outfit for Dolls ($24)- When it's time for fall fun, your girl can dress her Bitty Twins doll in this cozy outfit:
A collared flannel shirt with a plaid pattern and buttoned front
Cuffed khaki pants to match
Slip-on canvas loafers with textured soles
Includes The Bitty Twins' Movie Night book for girls
Fall Flower Dress for Dolls($24)- Your little mommy can get her Bitty Twins doll ready for autumn adventures in this outfit, featuring:
A red corduroy dress with puffed sleeves and a trio of embroidered flowers at the hem
A ribbed knit beret to keep her warm in cooler weather
Knee-high boots to match
Includes The Bitty Twins' Movie Night book for girls.
If you know a little girl who's lost some hair for a medical reason, or has a loved one who has, I highly recommend checking out one of the wigless dolls that American Girl sells.  They are the exact same as all of the other dolls, just without hair…and if you want to see how the doll will be received, read about Abby and her new doll.  There are also a wheelchair and crutches for dolls, and even a service dog set ($34).  The service pup is darling- chocolate brown, removable vest and harness, and even a box of training treats!  One of my favorite things about American Girl is how they "get" what girls are about, and I love how they "get" that not all girls are the same size, color, or ability.  
The Mini Dolls are also a great option for gifts- at $24 they are on the lower range of items from American Girl, but are also a bit more portable and easy to travel with.  We have a few of them and this is a favorite gift for birthday parties! Each of the mini dolls is a 6 inch version of one of the historical characters which come dresses just like the 18inch dolls, and even a tiny version of the book.  Be warned, I cannot read the books that come with the minis.  They are just too tiny for my 38 year old eyes.  My 7 year old loves to read these books, and they do fit into your pocket.
Books– American Girl has some really wonderful titles in their catalog- from the series that go along with each of the historical characters to the Girl of the Year books, to activity books, books "about me" that talk about what tween girls are experiencing in life and with their bodies.  There are Inner Star U books that let you choose your own ending- much like the "choose your own adventure books" I loved as a kid.  Books are such a wonderful gift and can be read over and over!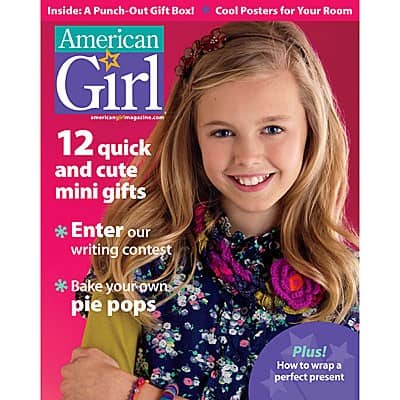 American Girl magazine– This magazine comes out 6 times per year.  It's chock full of great content, all about tween girls.  Fun recipes, crafts, projects, stories, and more.  It's a great gift idea because it lasts all year and encourages reading, creativity, and it's got safe content for your little girl.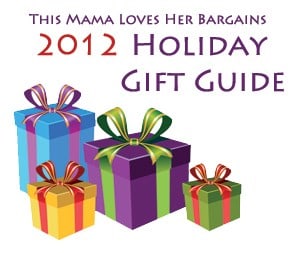 One reader will win a 1 year subscription to American Girl Magazine! To enter, simply leave a comment and tell me who your subscription will be for!

Want extra entries? (Leave a comment for each entry method you do and either leave your username or the URL of your "share")
*
*
*
*
*Share this giveaway on any social networking site- can be done 1x/day but leave the url of each share in it's own comment!
Samples of some of these products were received to facilitate my review.  Opinions are my own. This giveaway will end on November 27, 2012 at 11:59 pm EST. US only. Winner to be chosen randomly. One entry per household.