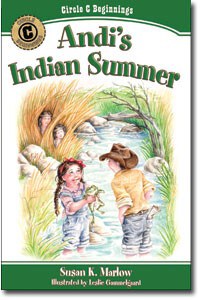 Andi's Indian Summer is the second of 4 books we received from Susan Marlow's Circle C Beginnings series. The series is appropriate for ages 6-8 although my just turned 6 year old has been fine reading them- and enjoying them immensely.  We've already met Andi Carter and her siblings, and now we read as Andi gets a bit spooked a bit by a scary book her brother Riley read to her and her imagination goes wild.
Each chapter is a few pages long, and there are beautiful pencil illustrations throughout the book. There 's a "new words" list at the front of the book so kids can see what new words might mean they haven't come across before.
Kids can easily relate to Andi, being teased by her older brothers and sister, …having to do chores, forgetting to do chores…they can very easily imagine themselves getting into the mishaps and adventures Andi does.
The Circle C Beginnings series are Christian fiction- which is something I really like. The books reflect Christian values- which means there is an underlying positive message about hard work and family values that I like being reinforced. When I say Christian fiction I don't mean that there are biblical references nor that this is a biblical book- but in my experience many "young" chapter books have lessons and values I do NOT want reinforced (like the main character calling people and things stupid all the time) and this series doesn't have that component. This is definitely
There are already new Andi books out that my girl has been asking for almost daily!! We are sharing each of the first 4 books in the series over a 4 week period  including giveaways so stay tuned!!
You can purchase any of the Circle C Beginnings books at Amazon.com, kregel.com or other Christian sellers online. They retail about $4.99 each. Well worth the price and I definitely recommend them.

There are lots of fun activities and coloring pages on www.andiandtaffy.com for you and your kids to enjoy- some of which you can download for free: Andi's Indian Summer Activity Pages. There are some wonderful educational activities for homeschoolers or just for fun!
One of my readers will win a copy of Andi's Indian Summer for their very own!
Mandatory Entry: Leave a comment with your name and be sure to use a valid email address in the comment form so that I can reach you if you've won!!
Extra Entries:
Sign up for the Circle C Beginnings newsletter & confirm subscription (we just did!)
Like Kregel Books on Facebook
Follow me on GFC, Facebook, Twitter or RSS/Email Subscription (+1 each)
Share this giveaway on any social networking site (leave URL of your post please!! hint: right click the time stamp!!) #win a #SusanMarlow #CircleCBeginnings book @KregelBooks #Christian #chapterbooks #kids from @mamatomjr http://wp.me/p1qA6G-2Cw (can be done 2x day at least 1hour apart)2x/day at least 1 hour apart
This giveaway will end on August 1, 2011 at midnight, EST. US only. Winner to be chosen randomly. Winner has 48 hours to respond to my email or a new winner will be chosen.
I received a sample of this product in exchange for my post. Opinions expressed within are my own.
[ad#glam between posts]
0