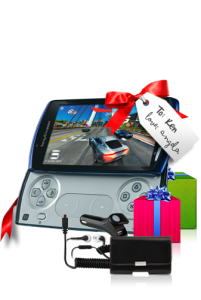 AT&T's Season of Gifting is in full swing- if you haven't yet heard,  from December 1st – 20th, AT&T is featuring a deal of the day ! During this time people can enter the sweepstakes for a chance to win smartphones, tablets and other cool prizes.   I love prizes. 
There are TWO ways to win each day- when you arrive on the page you'll notice you can also nominate a friend and share your nomination to have others vote on your story explaining why your friend should win. Check out Season of Gifting for more details!
Well, what's more fun than winning a prize?  Helping a friend win a prize!!  Will you enter?  What would you want to win most?  Let me know if you enter, so I can come and vote for you!!  I will be very, very happy if one of my fantastic readers wins one of these prizes.  Lots of chances to win with lots of days left in the Season of Gifting promotion. 
What's even more fun than winning that sweepstakes? One reader will win a $25 AT&T gift card!!



I will be receiving product from AT&T for my time and participation. However all opinions are 100% my own.
0