Have you heard about the Babba Box?  If your kids love crafts and projects as much as mine, you need to check this out!
Babba Box:
"Monthly subscription box for kids ages 3-6, delivered to your door filled with projects, activities, books, digital downloads and online content! It's a theme-based box with ALL the physical materials plus know-how content to really engage with your kids!"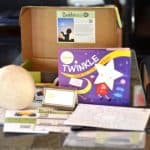 BabbaCo sent me a box themed "Sun, Moon and Stars".  My kids were THRILLED to receive a fun box in the mail just for them!  This box was filled with great activities that both my 3 and 6 year old enjoyed.  Here's what my kit had in it:
-Supplies to create a Paper-Mache Moon nightlight
-Foldable Sport Glass
-Lunar Calendar Chart
-Constellation Frame Craft Kit
-Twinkle Book
Our Experience: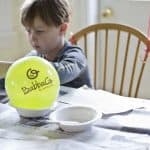 Of course my kids wanted to get right on the Paper Mache craft.  It was reasonably easy to do and not as messy as I had anticipated.  It took 2 days to apply both layers of paper mache, including drying time.  My kids thought it was great fun to pop the balloon and have their very own "moon".  Once the moon was created, we simply placed the provided electric tea light inside and they had an instant night light.  They love it!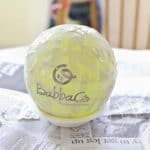 The twinkle book and other activities have kept my kids busy for over a week.  My oldest son has taken the foldable sport glass and now carries it with him everwhere!  One feature that I really loved are all the online tools that correspond to your box.  We were able to scan a QR code provided on the box for some great downloads related to the sun, moon and stars.  They even offer a free app that teaches your little one how to play "twinkle, twinkle little star".  How cool is that!
BabbaCo has definitey put a lot of thought into their product.  All the activities were fun and well thought out, requiring little to nothing in the way of extra materials.  Absolutely everything is included.  All activities could be completed relatively quickly and are perfect for the 3-6 year old set.  We loved our Babba Box and will definitley be using them the next time we need a cool gift idea!
How a BabbaBox Membership Works:
Step 1:

Sign up for a monthly or an annual membership with your child's birth date.

Step 2:

A BabbaBox full of activities arrives every month (starting the following month after membership purchase); get excited to create, explore, story tell, connect and learn together!

Step 3:

Check out member exclusive digital content and downloads approved by BabbaCo experts for your BabbaBox available on our website!

Step 4:

Kids anxiously wait at the door until your next BabbaBox arrives!

What's in the box?

4 Major components are included:

Create

2 to 3 projects kids do with their hands. ALL the physical materials included!

Explore

A theme-based product where your child will engage with the world & nature.

Story Tell

Carefully curated books to stimulate your kids' imaginations.

Connect

Interactive learning with prepaid downloads approved by BabbaCo experts.

Why We Love The BabbaBox!

Save TIME:

No more running around to craft and super stores to gather all the materials. Oh, and by the way, you don't need to clutter your house with 200 googly eyes and bags of pom pom balls! Get exactly what you need in each box without the errands!

Save MONEY:

Each box has a retail value of $40-$50 plus the benefits you can't even buy! The research, exclusive digital content, and special surprises in each box all add up to an amazing value.

Save MIND SPACE:

Our panel of experts give you the peace of mind that these activities and resources are truly enriching your kids! We do all the research and validation, so you can focus on the quality time with your children. Finally, something NOT on your to-do list!
These boxes start at a really affordable $29.99 a month.
One of our Readers will win their own BabbaCo box!!!!
"A sample of this product was provided to help facilitate this review.  All opinions expressed are my own."
0