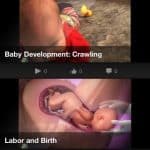 In the age of smartphones, new parents have it far easier than many before us.  Or before them, since I guess I'm not a "new" parent anymore.  Got a question in the middle of the night?  Worried about a symptom?  Not sure why this is happening, or that makes them crabby at 3 am?  There's an app for that, of course.  The folks at Babydot have created an (iPhone) app designed for new parents (and parents to be) that gives lots of helpful information and advice.  The bonus?  It's free!!  The app was created to give new parents a place to connect with others, ask questions, give suggestions, you can connect with Twitter and Facebook, share photos and more. 
The Babydot app has a news section, a store section, videos, chat, links, photos, mailing list, coupons for diapers- its really kind of a one stop "shop" in many senses of the word for parents and parents to be!  I can almost guarantee many purchases would have been made from my iPod Touch when Baby B was getting up frequently in the night had this app been around and downloaded on my device- I'd have been perusing the site instead of playing word games against frieds.  I'm sure my husband will breathe a sigh of relief. 
I love the idea of this app.  Its fun, its informative, interactive, and very thorough in content.  Plus, its free!! I love free!! 
Check out BabyDot for your baby needs delivered right to your door!!

To help spread the word about the Babydot app, one of my readers will win a $100 iTunes gift card!



This is a sponsored post brought to you by our friends at Babydot.  Opinions are my own.
0