Lots of us are starting or finishing back to school shopping for the new year! It's always good to find deals on the brands the kids want, so we can maximize our dollars. I wanted to let you know that select Nike sneakers from Finish Line at Macy's are 25 – 40% off! This back to school sneaker savings post is sponsored by Savings.com.
Sale on Nike sneakers Dates: 7/28/19 – 8/3/19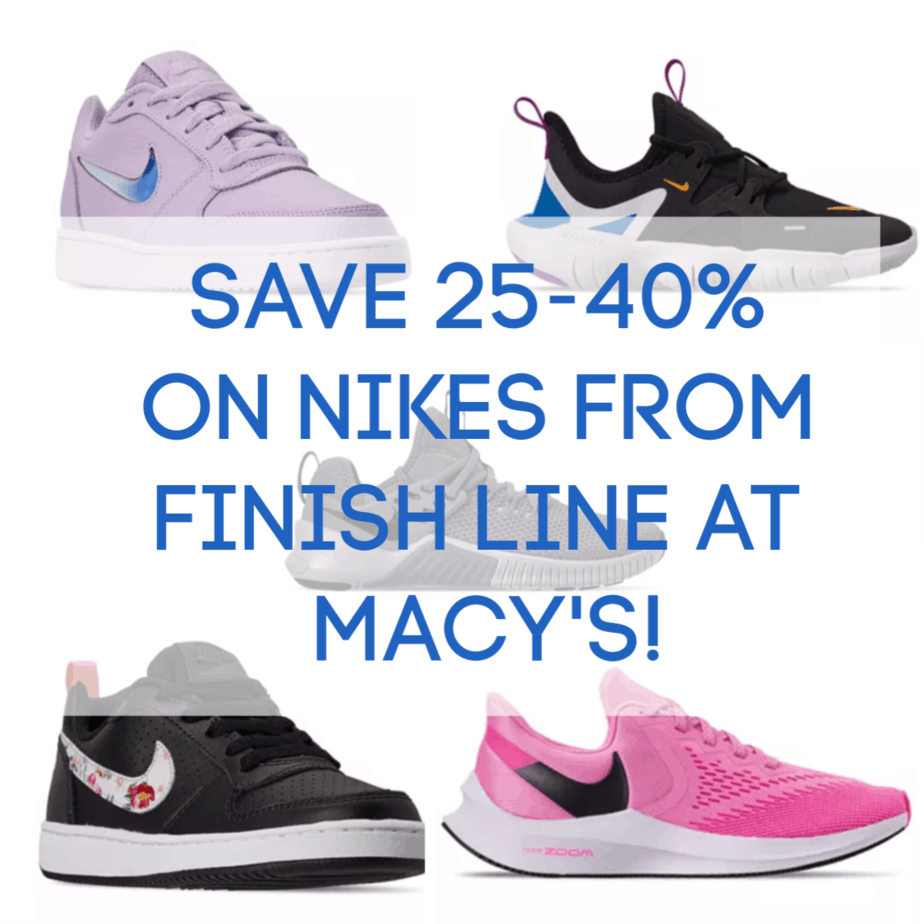 Here are MY family's faves, although we found many other great options in the sale even down to itty bitty baby shoes!
I spent some time with the kids looking at some of the options that are on sale- was happy to see there were options to suit most tastes in footwear! If you know me at all, you know I loved the bright, happy pink running shoes for me. My husband just chooses grey, in varying shades and brands, but he'd love these training shoes and the price is right.
Women's Air Zoom Winflo 6 Running Sneakers

Men's Free Metcon Training Sneakers

Skate shoes are all the rage with my oldest too, and little sister was excited to follow in her footsteps (literally and figuratively) when she found these black floral shoes! She can wear them for everyday, but I think they will look adorable for her band concerts with the black pants and white shirts they are required to wear.
Girls Court Borough Low Vintage Floral Casual Sneakers

My teen is absolutely obsessed with athletic footwear of late. She got a pair from my sister for her birthday, has at least 5 other pairs, and has gotten one more already for school. She's begging me for the purple shoes, especially with the irridescent swoosh. Technically, she doesn't have any purple sneakers, but I feel like maybe 5 pairs of sneakers may be enough.
Women's Ebernon Low Premium Casual Sneakers

Last but not least- my son's just about what feels comfortable on his feet. He is my kid who will choose the shoes he finds ugly because they are comfortable for his feet, and Nike's tend to fit him well- so he thought this pair of running sneaks that are mostly black with a little bit of color were going to be great for middle school year 2
Free RN 5.0 Boys Running Sneakers

Head over to Macy's and find Nike sneakers on sale from Finish Line and get a jump on your back to school footwear! What ones are your faves?