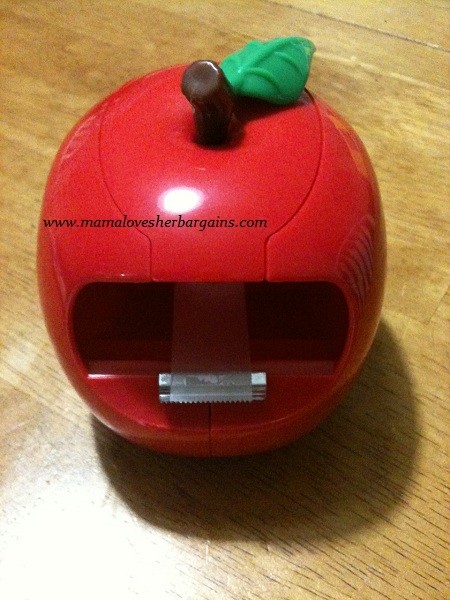 Have you been to Staples lately? I won't lie, I'd not been in  a very long time (at least not for more than printer ink and paper reams) and was more than delighted to hear and see  that they've got some very, very fun items for back to school….even for those of us who aren't going back to school but like to have new supplies for September anyway.  Cool backpacks, fun staplers, tape dispensers, gorgeous binders— they are all available and very competitively priced.
Growing up, I always hoped and hoped my mom would get me a Trapper Keeper binder.  Oh, how I wanted one. I never did get one.  I do realize I could easily get myself one now, but when Staples sent me this Translucent Screen Print Binder. I love it.  I use it for my girl scout papers to stay organized, much to the disappointment of my 7 year old. She saw this binder and claimed it for her own.  I'm one for sharing, but a pink binder with a bit of shimmer? ALL MINE.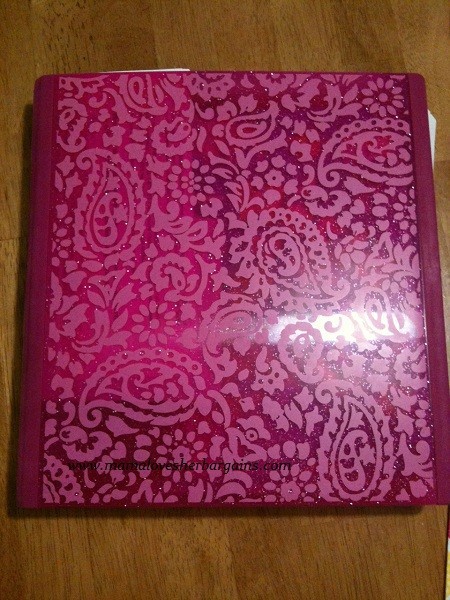 Sugar Rush Folders and Notebook: Fun, fresh and lively, addressing the eternal optimist. Designs inspired by beautiful tints of French Macaroons, designer candy and trendy bakeries as well as playful nail polish palettes.
·         Staples® Fashion Notebooks: Exclusive to Staples! Students can let their personality show with these fashionable notebooks, available in assorted designs. Available at Staples retail stores. ($1.00)
·         Staples® Fashion Portfolios: Exclusive to Staples! Stay organized and stylish with portfolios available in 3D poly, poly, paper and textured poly materials. Durable, waterproof and tear-resistant, these folders built to last. Convenient twin pockets hold loose documents and other materials. Available in assorted colors and designs! Available designs exclusive to Staples at retail stores. (paper portfolios/$0.99, 3D poly portfolios/$1.99, poly portfolios/$1.99 and textured poly portfolios/$1.99)
Staples BETTER® Translucent Screen Print Binder: Exclusive to Staples! Durable, convenient and eye-catching, this new translucent screen print BETTER binder will organize notes, reports and more. Its unique screen prints will stand out on any desk, table or shelf making it a great way to express your individuality. Available in 1" designs in Owls, Cartoon, Tron and Love at Staples retail. ($7.99)
Staples® Sweets Die Cut Memo Books: Exclusive to Staples! Sweeten up your school supplies with these cute and colorful 5×5.5 die cut notebooks. Available in watermelon, strawberry, cupcake and apple die-cut shapes in Staples retail stores. ($1.00)
Staples® Tape Dispenser: Dispensing tape has never been so sweet! Now available in fun, novelty shapes including a red apple and silver and pink cupcake. Available at Staples retail stores. ($7.00)
Staples® Novelty Paper Clip Containers: Exclusive to Staples! Dress up your desk with this fashionable and unique paper clip container. Available in black & white purse, black & red high heel and pink & white cupcake at Staples retail stores. ($3.00)
We may be already Back to School, but fun supplies are never turned away, and we've already had to replace one torn folder in my house…so it's good to be prepared.  Plus, with the affordable pricing, these will make fun add-ons to include in care packages, or in stockings come Christmas time….(and I won't lie- one of my daughter's FAVORITE presents she's gotten in her "whole life" (7 years) was a pink tape dispenser with extra rolls of tape from my sister.  She still uses it daily, 2 years later).
I can't wait to head to Staples again SOON and see what else they have that's fun.  Why go boring and traditional when you can have fun and funky?
One reader will win a $20 Staples Gift Card!
Loading Entry-Form…
…
 I received promotional items in exchange for taking the time to share this. Opinions are my own.
0