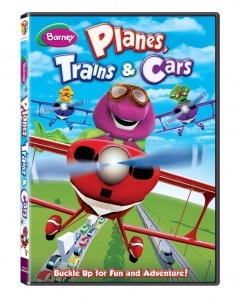 Embark On Fantastic Adventures With Barney™ And Friends In An All New Tee-Riffic Transportation Exploration!
PROGRAM DESCRIPTION
Come along for a dino-mite ride filled with laughter, friends, fun and song with preschool favorite Barney™ and his playground pals in Barney: Planes, Trains & Cars, arriving on DVD, Digital Download and On Demand May 15, 2012 from Lionsgate and HIT Entertainment.  Let your child's imagination be their guide as they trek to places near and far by air, ground, rail and sea – all without ever leaving the comfort of your home – in these four new, transportation-themed adventures.
Trusted by moms and adored by children, Barney displays sharing, caring, imagining, dancing and learning on television and online and through live events, home entertainment, toys and publishing. The Emmy® award-winning series, Barney & Friends™ is one of the top-rated preschool shows today, airing on PBS KIDS® and Sprout®.
SYNOPSIS
Beep beep! Toot toot! Make way for Barney™ and friends as they embark on fantastic adventures to places near and far. Using planes, trains, cars, boats and their imaginations, Barney engineers fun with songs and stories about exciting places. He shares important safety tips with kids such as buckling seatbelts and more. Join Barney for some Tee-riffic transportation exploration!
Episodes Include:
"On the Road Again"
"Airplanes"
"The Magic Caboose"
"Way to Go"
PROGRAM INFORMATION
Year of Production: 2012
Title Copyright: © 2012 Lyons Partnership, L.P.  The Barney name and character, related characters and the overlapping dino spots and Barney and star logos are trademarks of Lyons Partnership, L.P.  Reg. U.S. Pat. & Tm. Off. and other countries.
Type: TV on DVD
Rating: Not Rated
Genre: Children/Family
Age Target: 1-5 years old
Subtitles: None
Closed Captioned: English and Spanish
Format: Full Screen
DVD Feature Running Time: 79 minutes
VOD Cable/PPV Running Time:  86 minutes (including bonus feature)
DVD Audio Status: English and Spanish 2.0 Dolby Digital
Program Website: www.barney.com
——-
My Thoughts:
Does your child like Barney?  My daughter is going through a phase now where all she wants to watch on television is Barney.  I have watched a few episodes with her, but end recording them and letting her father watch them with her.  He now sings the "I Love You" song to her every night before bed.  After talking with other moms, I have found that their children either love Barney, or don't.    There is something about this show that makes me sleepy.  I remember watching it with children I used to babysit years ago, but now,  can't fathom why this show has been around and so successful for years.  So, when it came to reviewing this title from Hit Entertainment and Lionsgate, I left it to my husband to watch with Savannah and share his thoughts.
My husband likes to watch the bonus features on DVDs first, and said that the read-along and counting game for fun to do with Savannah.   Now that Savannah is learning how to count, she was able to follow along with Barney and play this game.  When it came time to watch the DVD, which contained 4 episodes of this hit show, both my husband and Savannah found Airplanes and On the Road Again to be their favorites.  The songs sung in each of these episodes were catchy, and when I was cleaning the living room over the weekend, saw my husband humming and tapping his feet to the songs.  Savannah was front and center dancing and pointing out things to her Daddy.  My husband liked how the episodes were short, which kept Savannah's attention, and let him break up viewing over an afternoon.  When they were done watching all four episodes, Savannah wanted him to play it again. 🙂  So, as you can see, a Barney fan will love this new DVD release.  And, with summer right around the corner, these episodes will get young children excited about taking family car rides, all while learning about safety and the need to buckle up.
You can order this DVD online at Amazon.com, as well as buy at your favorite retailer.  It retails for only $14.98.
One reader will win a copy of Barney: Planes, Trains & Cars on DVD!
Javascript must be enabled to enter this giveaway. Learn how to activate Javascript by
clicking here.

Loading Entry-Form
Disclosure: I was sent a copy of this DVD from the vendor in order to write up an honest review.  The views above are mine and mine alone.
0