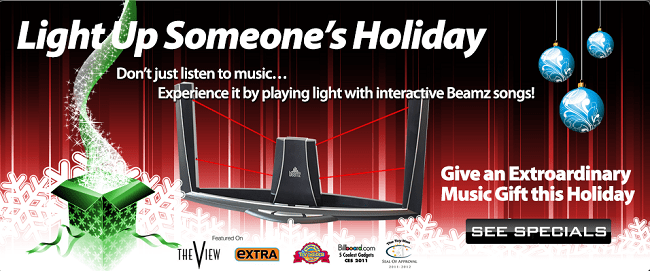 A few years ago we were fortunate enough to be introduced to the interactive musical experience that is called the Beamz laser music player. There are literally hundreds of instruments, sound effects and songs that you can play around with for a different musical experience every single time you use the machine. We've all heard and seen what experts say about music enriching lives- and the Beamz player is designed so that anyone of any age can use it and create musical masterpieces. This may be the perfect family gift! You can use it alone or at a party- or at a more intimate party for two. There are so many different options and ways to create with the Beamz player that you might even say it's limitless- and when those options "run out" for you, there are more to be found on the Beamz site.This is truly a one size fits all gift– it works for all ages, genders and abilities, and can work great for just one person and just as well for one hundred people.
The Beamz player can be enjoyed at home and with friends, but it can also be used in hospitals, nursing homes, schools, rehabilitation centers, and more. Having a father who lives in an Alzheimer's unit, I can tell you firsthand that he and his fellow residents could benefit immensely from having a Beamz player around- you don't have to remember much to use it- and even if you aren't the one orchestrating, you can simply enjoy the sounds and lights someone else is creating. I think there are many, many other groups of people who can benefit from a device like this.
With the Beamz, there is music grouped by category and genre, so you can be sure to have something you like to play with. The music library appears to be growing on a regular basis, so you don't have to worry about running out of options.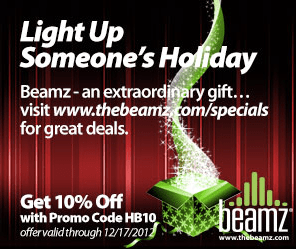 Right now you can save 10% on the Beamz player using code HB10 until 12/17/12. There are also 4 special deals on the Beamz player right nowto maximize your savings-for instance, you can get a Beamz Player Laser Controller & Virtual DJ Home for just $99.99 (down from $149.99) less the 10% coupon…your total would be $99.90. (Shipping is $9.95, so you are basically getting free shipping with this unit). That's not a bad price for a gift that will entertain the whole family for a very long time to come!
Don't just listen to music…Experience it by playing light!

Beamz is an innovative gift that enables anyone to experience the fun of making music by touching laser beams and playing light. Interactive songs from all music styles and genres are setup and ready to play, regardless of experience with traditional instruments.

Beamz lets you join the band, be the band, be a conductor, and even have DJ-like experiences by interacting with hundreds of different instruments, sound effects and songs.

0