HMH Books is partnering with me for a giveaway of the hilarious middle grade novel, BEST BABYSITTERS EVER!
By Caroline Cala *Published by HMH Books for Young Readers *In Stores February 5, 2019 *Recommended for ages 10-14
Best Babysitters Ever: Funny Middle Grade Book
I'm happy that my kids love to read. I take no credit- I think it's genetic. My mom forever had a stack of books she was reading on her bedside table, the kitchen table, a stack on her shelves and probably some near her bathtub. I don't think I read quite as much as my mom did, but I still love it and it's fun watching my kids discover books they love to read- and often re read!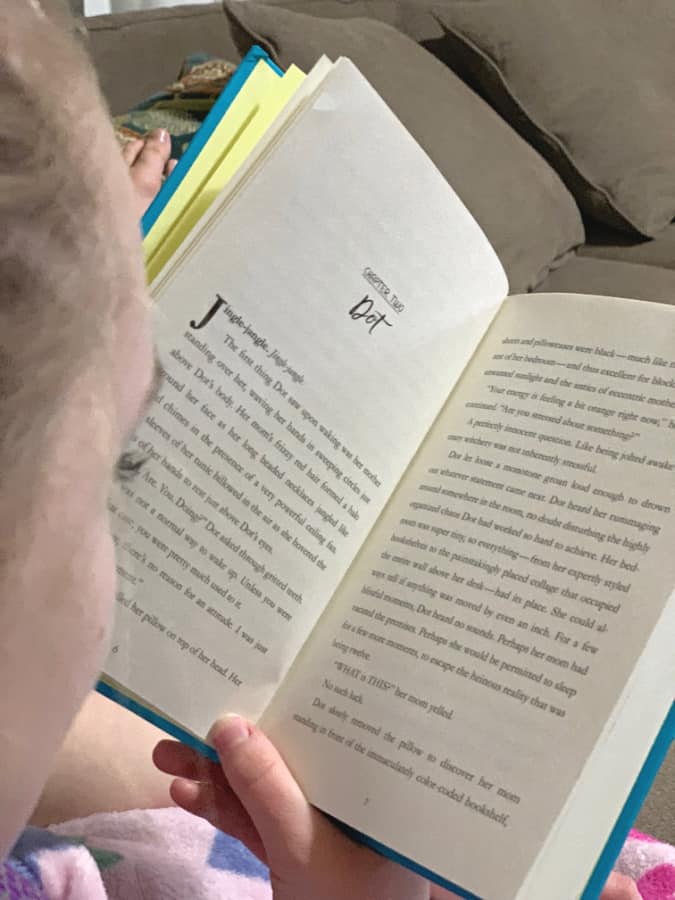 Lately, the kids have been re-discovering the The Babysitters Club books that I read as a kid. Now they are coming out in graphic novel format, and so that's been cool to see these childhood favorites of mine in a new format. I mention this because they are all in the midst of waiting for the 7th in that series to be released and all three were pretty excited to hear that we had a new book to check out that was inspired BY the familiar babysitters club stories! Plus, 2/3 Martins are officially certified babysitters and so they love reading stories about babysitting and being tweens/teens.
Note: you can totally love this book with or without having read the Babysitters Club stories. It's a stand alone book that you will enjoy with or without the familiarity of those characters and stories. It'll also make you laugh!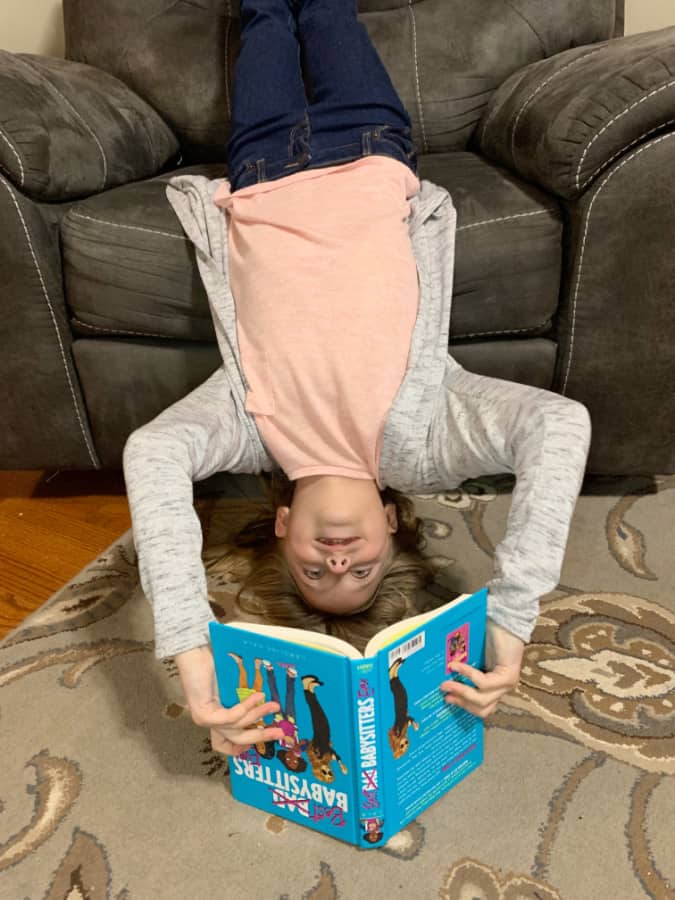 Yes, my kids change position around a lot when reading. I don't know how or why they read in the weird positions that they do, but my 44 year old neck cannot hang with these crazy positions. I prefer a nice pillow to cuddle with reading on my bed or in my tub!
Best Babysitters Ever features an authentic depiction of friendship with a diverse cast of characters from different ethnic and socio-economic backgrounds. The diversity is a natural part of the story, and doesn't feel like one of those books where the differences are forced and deliberate. The characters are just friends- and they learn and grow from one another regardless of which economic or ethnic background they are from.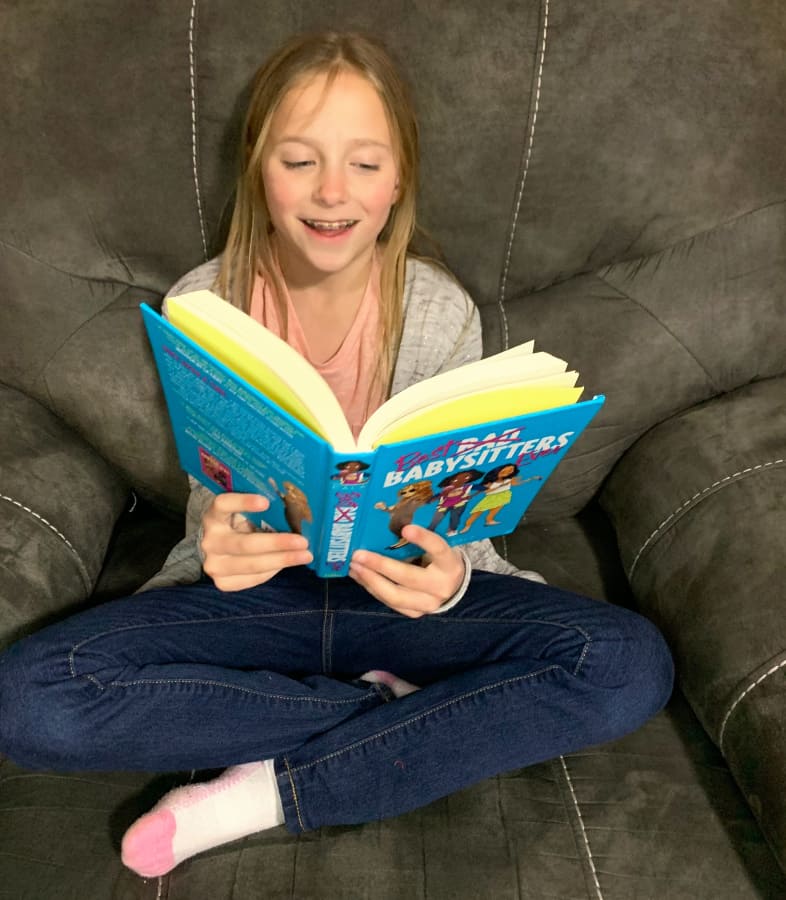 This is a funny book but it's also the story of female entrepreneurship and a lesson for kids on how to make and spend money responsibly. What kids don't need to learn about financial responsibility?
It's quite timely for our oldest, as she's been babysitting regularly after school the whole year and has, for the first time, got money of her own consistently that we've been working hard to teach her about spending, saving, and doing for others. It's so convenient when things that entertain my kids tie in nicely with important lessons to reinforce what we parents are trying to teach them!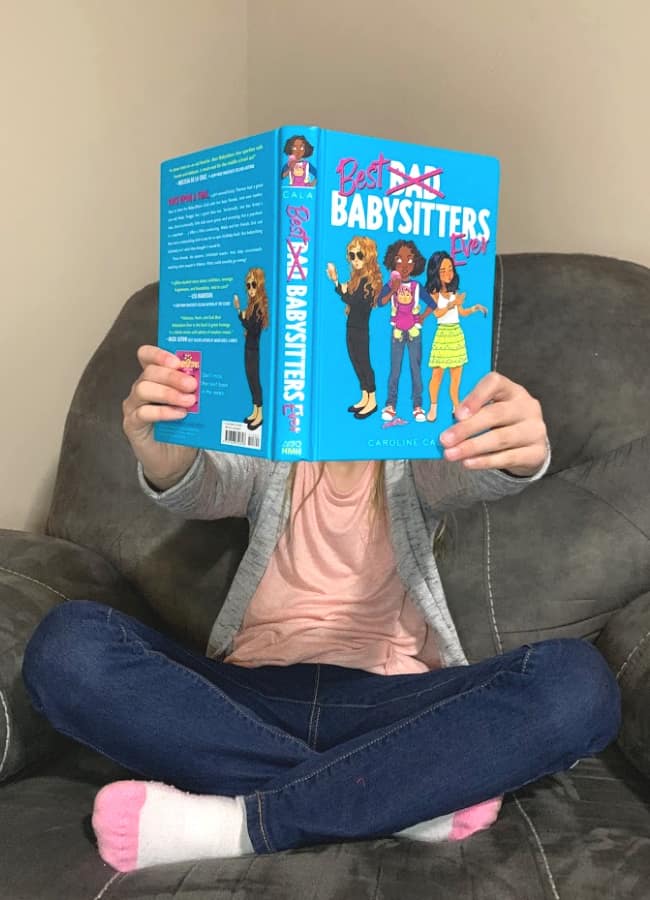 What's it about?
A funny new middle grade series about three 12-year-old best friends who start a babysitting club in their small California town. Perfect for fans of series like Whatever After and the Dork Diaries.

Once upon a time, a girl named Kristy Thomas had a great idea: to form The Baby-Sitters Club with her best friends. And now twelve-year-old Malia Twiggs has had a great idea too. Technically, she had Kristy's idea. (And technically, little kids seem gross and annoying, but a paycheck is a paycheck). After a little convincing, Malia and her friends Dot and Bree start a babysitting club to earn funds for an epic birthday bash. But babysitting definitely isn't what they thought it would be.

Three friends. No parents. Unlimited snacks. And, okay, occasionally watching other people's children. What could possibly go wrong?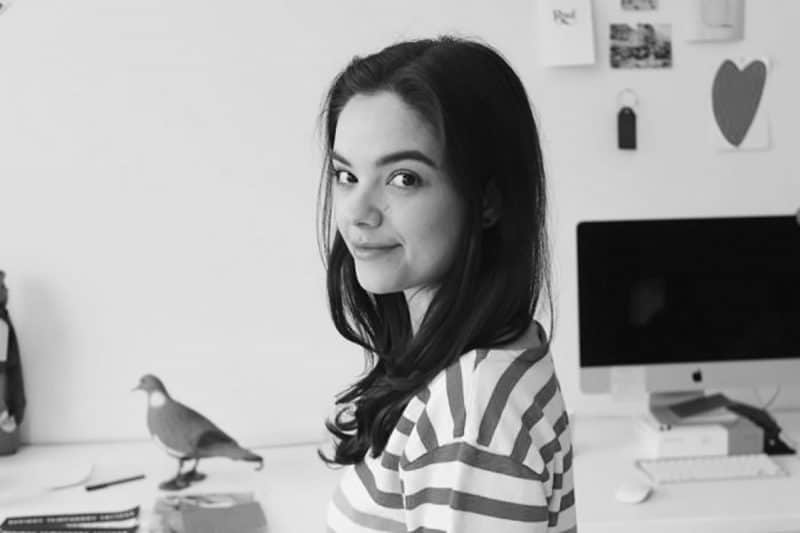 About the Author
Caroline Cala is a writer and editor residing in Brooklyn. She has worked as a book editor and as a ghostwriter on a number of books by notable people. Her work has appeared in Vogue, ELLE, Refinery29 and others. Best Babysitters Ever is her middle grade debut.
Follow @CarolineCala on Instagram
REWARD THE HARD WORK and WIN!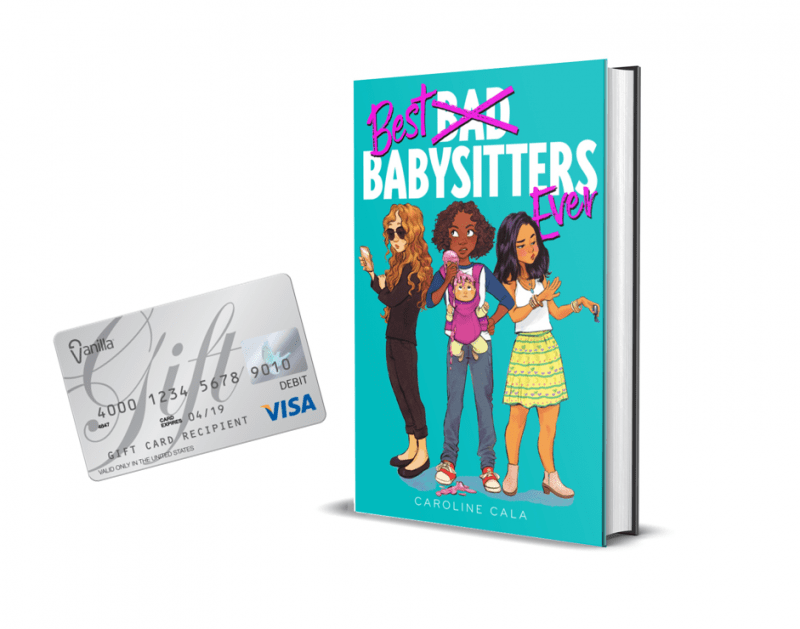 A hard day's work deserves a reward! One (1) winner receives:
a copy of Best

Babysitter

s Ever,
and a $50 Visa gift card to let your young reader splurge on themselves – no babysitting job required!
TO ENTER: Leave a comment here about what YOUR favorite book genre is to read, and what your kid(s) faves are! Entries must be in complete sentences and be thoughtful responses to this question.
Giveaway open to US addresses only. Giveaway will be open until February 27, 2019 at 11:59 pm ET. Winner chosen randomly, and will have 48 hours from initial email sent to confirm prizing info or a new winner will be drawn.
Prizing and samples provided by HMH Books.