I think we all have a gift or two we've received that really just blew us away with the thought or the meaning.  For me, it was my first Cabbage Patch Kid.  I'd wanted one for SO LONG and all of my friends had them.  My mom had spent hours and hours in lines trying to get her hands on one, just one doll, and had no luck, and had warned me before Christmas that she'd not had luck.  She'd even had friends and coworkers looking.  But then on Christmas morning, I finished opening my gifts and stumbled on this little note, kind of stuck under the tree…and I wondered, how did we not see this when we were passing out gifts all day?  Curious, I tore into the note. (Truth be told, I was impatient and almost tore it in two.  Details).
Written on the note were instructions for me to go to another place in the house.  That led to another note…and another…and I would guess 5-6 notes later, I found myself in one of the secret rooms in the attic of the old Victorian house I grew up in.  I had no idea at all that I'd be finding my VERY OWN CABBAGE PATCH KID, especially since I misread the last instructions in my excitement and confusion and missed a few minor details (oops)….and then I found her.  The yellow box with cabbage leaves all over it…and a Cabbage Patch Doll of my very own.
I'm fairly sure that the neighboring towns heard my shrieks of delight when I found my doll…I just kept screaming and jumping up and down and hugging that box so so so tight!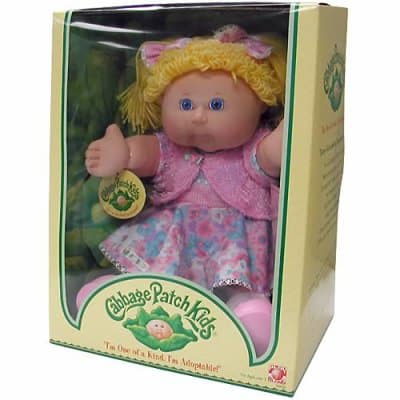 Of course, we're 33 years away from that wonderful Christmas morning.  I believed in Santa, but somehow I knew deep down that my mom had spent so many hours of her own time trying to help me get that doll, and I knew I'd love her more than anyone ever loved a doll before. I don't even have photos. (Hey, I'm the 8th kid between my parents, there's not many photos of me in existence at all as a kid!) But I have those memories– and though my mom simply smiled when I finally made it downstairs and shouted Thank you so much to anyone who would listen, the glimmer of a tear in her eye as she turned to go back to what she'd been doing when I burst into the room with my Cabbage Patch Kid has stayed with me forever.  It's that glimmer that's given me  my Christmas crazy, my love for the holiday and the spirit of it all.  That magical spirit of Christmas.
Of course, if this all played out today, I'm sure my mom would have been able to set search alerts, checked for discounts or free shipping codes to save some money (and her time!!) and not had to stand for hours before work, during lunch and even after work on many occasions just to find that one elusive little doll that meant so very much to her little girl.  Knowing her, she'd likely have paid a little extra just to make sure it was under the tree.  It's just how she was. But really, while I wish she hadn't had to stand in the lines for hours on end, I think it made that little doll mean so much  more to me because she worked so hard to make sure I got her.
Shopping for that "best gift" has sure gotten a lot easier since the beginning of the internet and online shopping!  Now we can find what we are looking for and also look around for coupon codes or free ship codes that help us save a little cash.
What was the best gift YOU ever received?