They're 2, they're 4, they're 6 they're 8, shunting trucks and hauling freight…. Red and green and brown and blue, they're a really useful crew! Disclaimer: This Thomas the train post is sponsored by Lunchbox. All opinions are my own
If you know that song, you've probably got a Thomas the Train fan in your life.  And having a huge Thomas fan in your life will probably make you want to read further, because maybe you are convinced that your little one is, indeed, THE biggest Thomas fan!!  We've spent countless hours laying elaborate track around our house with the kids- sometimes with adults, sometimes without.  Our biggest "game" is to use ALL of our pieces (which gets tricky, because they aren't always all connecting the easy way)…we've had tracks that loop around our whole downstairs and ones that go up and over the couch and chairs…Building tracks and pushing the engines has always been a family activity we enjoy, and many memories have been made while playing.

Thomas' Biggest Fan Contest
Visit the new Thomas & Friends™ page on Walmart.com for a chance to win the world of Thomas in his Biggest Fan Contest! One lucky fan will win the entire Thomas & Friends™ product line, including all kinds of products from bedding, to clothes, toys, movies, school gear and more. That's up to $3,000 in Thomas merchandise for your little engineer! What could be better?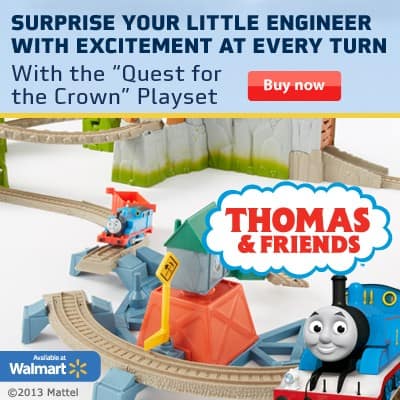 "Anytime is Thomas Time!"
Thomas & Friends™ has been delighting children all over the world since 1945, promoting important life lessons about the value of friendship, fair play, and team work. With so many different products to choose from, "Anytime is Thomas Time!" Visit to Walmart.com to check out the newest items, including Thomas' brand new adventure "King of the Railway" on DVD/Blu-Ray and the Quest for the Crown playset, inspired by the film.
Thomas & Friends™ Interactive Soundboard
While you're there, discover the sounds of the railway with the new Thomas & Friends™ interactive soundboard! This soundboard tool is available exclusively on Walmart.com, allowing your little ones to be the conductor as they click to explore various sounds from the world of Thomas.
 One reader is going to win a King of the Railway DVD and a Thomas & Friends Quest for the Crown Playset!! 
0