When the folks at Bulk Is Green (BIG) asked me to share about their BIG's Love Bulk Foods campaign for Earth Month, I had to say yes.  We love our earth here at my house, and we also love to buy in bulk. Why bulk? It's less packaging, more cost effective, and better for our world.  It's also less processed and generally better for you, from what I have seen in my time shopping bulk.  Save money and protect our earth.  Novel concept!
To help celebrate Earth Month this April, BIG is challenging consumers to take the pledge to "Love Bulk Foods" (by bulk foods they mean foods bought from the bulk bins of a grocery store) for the chance to win a gift basket filled with everything needed to help create a natural and organic pantry filled with eco-friendly bulk foods. All we have to do is visit the Love Bulk pledge page on the BIG website and sign a digital pledge to purchase bulk foods once a week during Earth Month. I pledged. I want to win. But more importantly, I want you to pledge.  And your neighbor.  Plus the guy down the road, and his friends.  We only have one earth.  Let's do what we can to take care of it!

Why should consumers take BIG's pledge to Love Bulk Foods? Buying natural and organic bulk foods from the bulk bins provide significant benefits to the environment – chief among them being a substantial amount of packaging waste diverted from landfills. What better time than Earth Month for consumers excited about bulk foods and their environmental benefits?
SO…I KNOW you are going to go over and take the pledge…and here's a little extra fun!!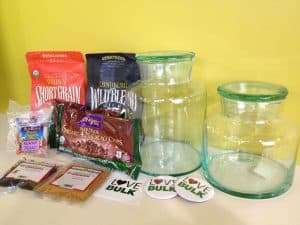 One of you will win a Bulk Foods prize pack including: Samples from the following natural and organic food companies (foods that commonly could be found in most bulk bins in the bulk foods aisles of many grocery stores nationwide): SunRidge Farms; Frontier Natural Products Co-op; SunSprire; Lundberg Family Farms, Love Bulk branded collateral (fun buttons and stickers), 2 (really cool) Recycled glass storage jars
Thanks to BIG for sending us a prize pack.  Opinions are my own, as always.
0