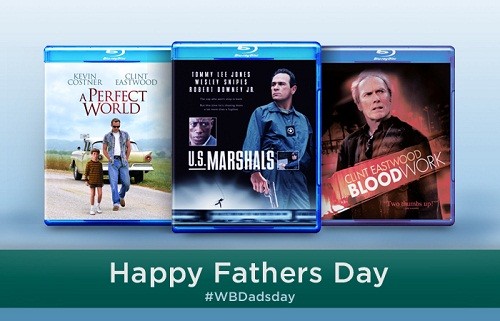 Father's Day is just over a week away, and movies are almost always a hit for gifts! The WB is having a Father's Day Promo. Blood Work, U.S Marshals, A Perfect World, and the Lethal Weapon Collection are available on Blu-Ray June 5th for purchase.  Why not grab some of his favorite "guy" movies for a gift?  You could even put together a date-night-in basket and do some movies, his favorite movie candies, some popcorn, a few of his favorite beverages, and perhaps even a gift card for some take out so he can have Father's Day "off"!!
Blood Work:
FBI profiler Terry McCaleb almost always gets to the heart of a case. This time, that heart beats inside him. He's a cardiac patient who received a murder victim's heart. And the donor's sister asks him to make good on his second chance by finding the killer. That's just the first of many twists in a smart, gritty suspense thriller that's "vintage Eastwood: swift, surprising and very, very exciting" (Jim Svejda, KNX/CBS Radio). Clint Eastwood produces, directs and stars in this edgy, acclaimed mystery based on Michael Connelly's novel and scripted by Brian Helgeland (L.A. Confidential). With a superb cast brought to a hard boil playing characters to quicken your pulse and hold you spellbound, Blood Work works exceptionally well.

U.S. Marshals:
Ladies and gentlemen, be alert. We are going to initiate a hard-target search for a fugitive in an ever-widening perimeter. We will wade through swamps, prowl Manhattan streets, search every house and doghouse. We'll eat on the run, sleep tomorrow, watch our backs. And since Marshal Sam Gerard leads the hunt, we will experience suspense, action and daring twists every breathless step of the way. Returning to his Oscar-winning role from The Fugitive, Tommy Lee Jones is Gerard, joining an A-team including Wesley Snipes, Robert Downey Jr. and director Stuart Baird. (Executive Decision) to deliver adrenaline-rush excitement. The suspect: armed, extremely dangerous, perhaps linked to a spy ring. The chase: highlighted by an out-of-control 727, a death match in a ship's cargo hold, a 12-story plunge onto a moving train and more heart-pounding sequences. The movie: U.S. Marshals.

A Perfect World:
Academy Award winners* Kevin Costner and Clint Eastwood confront each other from opposite sides of the law in A Perfect World, an acclaimed, multilayered manhunt saga (directed by Eastwood) that rumbles down Texas backroads toward a harrowing collision with fate. Costner plays Butch Haynes, a hardened prison escapee on the lam with a young hostage (T.J. Lowther in a remarkable film debut) who sees in Butch the father figure he never had. Eastwood is wily Texas Ranger Red Garnett, leading deputies and a criminologist (Laura Dern) on a statewide pursuit. Red knows every road and pothole in the Panhandle. What's more, he knows the elusive Haynes – because their paths have crossed before.

Lethal Weapon Collection Synopsis:
Lethal Weapon (1987) With over seven minutes of previously unavailable scenes, the director's cut of Lethal Weapon is a long-overdue present for fans. Riggs's solitary homelife and the tragic loss spurring him in a reckless disregard for his own safety now come into greater focus. We see that recklessness is new scenes underlining the differences between the two cops. Murtaugh, just 50, needs reassurance about his skills at a firing range. Riggs, not caring if he sees another birthday, coolly walks into a schoolyard sniper's field of fire. All the humor and adrenaline that made this original an entertainment milestone are here, too. No scenes have been removed. But new action and new insight are now included. Include yourself in the excitement. Lethal Weapon 2 (1989) Riggs wows the pretties of a hotel spa before getting to Getz. Murtaugh receives bad bodywork news from an auto repairman after his beleaguered station wagon sees some Riggs-piloted street action. Plus, feisty Leo shares a newly included scene in which he recalls a suspect's address by complex spins of numbers that, well, no one can tell it like Leo. And no one would follow his lead but Riggs and Murtaugh. It's police procedure, Lethal style. And it's yours to enjoy as the duo draws a bead on criminals hiding behind diplomatic immunity. Lethal Weapon 3 (1992) Riggs and Murtaugh are back again. This time, they must stop a former cop who has become an arms dealer to L.A. street gangs. Lethal Weapon 4 (1998) Mel Gibson and Danny Glover return as buddy cops Riggs and Murtaugh, with Joe Pesci riding comedy shotgun as chatterbox Leo. Murtaugh is still the family man. Riggs is still the gonzo loose cannon and – what's this? – family man. His will-he/won't he marriage to Cole (Rene Russo) is one of the new wrinkles in this powerhouse crowd-pleaser that also stars comedy favorite Chris Rock and international action star Jet Li. This sequel involves an action packed battle with a Chinese ganglord.

One reader will win a prize pack including: One (1) blu-ray copy of each of the following movies: Blood Work, U.S Marshals, A Perfect World, Lethal Weapon Collection
Javascript must be enabled to enter this giveaway. Learn how to activate Javascript by
clicking here.

Loading Entry-Form

I will receive samples of these films to thank me for taking the time to share this giveaway. Opinions are my own.
0