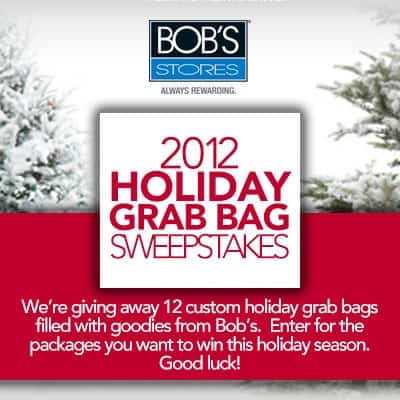 I have long loved Bob's Stores because they have a huge selection of footwear for most everyone in the family- in a huge range of sizes.  Not just that, but they always have great UCONN and RedSox gear, and those are my family's favorite teams.  So naturally, when they asked me to be one of the 6 bloggers to help them to promote their huge 2012 Holiday Grab Bag Sweepstakes, I had to say yes!
This time of year can get so crazy with holiday parties, travel, and – of course – shopping for presents.  Bob's Stores is a perfect place to do one-stop shopping for everyone on your list – from everyday casualwear to team apparel to home décor and fun gifts.  To share some gift ideas, Bob's is giving away 12 grab bags filled with goodies.  Enter for your chance to win!
Promotion: Bob's Stores 2012 Holiday Grab Bag Sweepstakes
Run Dates: 12/12 9:00 AM – 12/19 5:00 PM
Prizes: 12 (yes, TWELVE) jam-packed themed "Grab Bags" – each valued at ~$250 (except the gift cards) (You can check out the Grab Bags in the Rafflecopter widget below.  But the baskets are themed like "Workwear, with Carhartt brand and other high end brands. There is a grab bag with all kinds of UnderArmour goodies for the entire family- these are HIGH value and HIGH quality items in each and every grab bag!)
a Rafflecopter giveaway

I will receive a gift card to thank me for hosting this giveaway.  Opinions are my own.
Full rules: http://www.bobstores.com/giveaways/pages/2012GrabBagRules.pdf
0