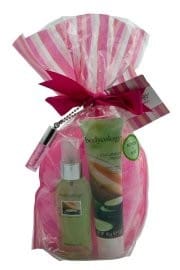 Smelling nice is something most of us prefer to do. I used to have an entire shelf of delightfully scented body sprays and lotions, years ago. It's fun to choose a scent based on your mood, your outfit, the weather, etc. Kind of like an accessory!!
Bodycology offers affordable scented body products that are not tested on animals. Their products are sold at drug, grocery and specialty stores all over the US.
Starting in November, shoppers will be able to build their very own bodycology gift set in several Walmart locations nationwide. You will have the pleasure of choosing from several festive colored gift bags (which includes tissue paper) as well as a variety of our favorite fragrances and products in order to build that perfect gift set for someone special— and all at an affordable price. The gift bag retails for .50¢ while the products retail for $3.97 a piece.
In addition, bodycology has two pre-packaged Gift Sets available this holiday season including their Mini Stocking Stuffer and Mini Bath Bundle.
bodycology will be sending a Mini Stocking Stuffer to 9 winners across all of the gift guide blogs (one Rafflecopter)!



I was sent a Mini Stocking Stuffer set for review and subsequently donated. Opinions are my own.
0